It is hailed as one of the largest and only functioning root growth and soil water research facilities in the southern hemisphere.
A $4 million redevelopment of an underground field laboratory complex, including a rhizolysimeter and automated rainout shelters at Charles Sturt University (CSU) in Wagga Wagga, will be officially opened by the Minister for Regional Australia and Regional Development, the Hon. Mr Simon Crean MP on Thursday 14 July.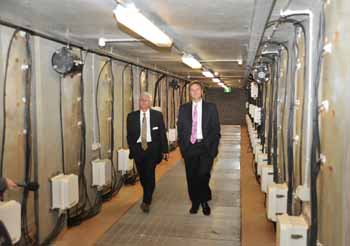 The rhizolysimeter, located in a paddock on the CSU Farm, is an integral part of valuable field-based research at the University. The facility is used for the study of crop dynamics, soil processes, water usage and soil based carbon sequestration in real environments.
The redeveloped facility is part of a much bigger $45 million project known as the National Life Sciences Hub (NaLSH) under construction at CSU in Wagga Wagga. The hub, which is due for completion in 2012, is funded from the Australian Government's Education Investment Fund.
CSU Vice-Chancellor and President, Professor Ian Goulter said, "This rhizolysimeter is core to Charles Sturt University's commitment to providing leadership in education and research in the area of sustainable agriculture for Australia. It represents an important research facility, as well as providing new knowledge that can be incorporated in undergraduate degrees."
Acting Head of the
School of Agricultural and Wine Sciences
at CSU in Wagga Wagga, Associate Professor Philip Eberbach said, "The rhizolysimeter has quadrupled in size from 24 to 96 underground cores formed around a central instrumentation hub. It is now one of the largest and most sophisticated facilities of its type in the world.
"It will allow us to improve our understanding of the actual processes and interactions between plant, soil and environment and give us a unique view of how plants respond to below ground constraints – processes which ordinarily cannot be seen.
"Further, as water is introduced into the cores at particular depths, we can better determine plant response to using stored water.
"This work will strongly inform modelling and will be vital in determining the resilience of farming in Australia as we face a climatically uncertain future," said Professor Eberbach, who is a specialist in soil hydrology.
Once completed, the broader NaLSH project will create a world-class life sciences research and teaching facility in Australia.
The Hon. Mr Crean will open the rhizolysimeter complex from 2pm on Thursday 14 July near Agricultural Avenue off Pine Gully Road, CSU in Wagga Wagga.
Facts on new Integrated Field Laboratory at CSU:

Project Director: Savills Project Management
Principal Design: Consultants: Wright Barrat
Engineers: Wright Barrat
Head contractor: Zauner Constructions
Cost: $4 million as part of the $45 million National Life Sciences Hub at CSU funded by the Australian Government Education Investment Fund (EIF). Read more about the NaLSH on CSU News here.
Who: Researchers from the School of Agricultural and Wine Sciences at CSU and members of the Graham Centre – an alliance between CSU and NSW Department of Primary Industries.
History: Originally built in 1998 as a smaller rhizolysimeter facility.