A kiss under the mistletoe is a Christmas tradition but for a Charles Sturt University (CSU) scientist studying this parasitic plant is a year-round obsession.
Professor David Watson from the Institute for Land Water and Society (ILWS) at CSU in Albury-Wodonga is a world authority on the ecology and interactions of mistletoes.
His research over the past 20 years has shown that mistletoe has a strong effect on biodiversity.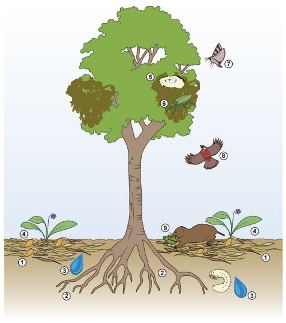 "I first noticed that areas with more mistletoe consistently support more wildlife but we're now much closer to understanding how this happens, which mechanisms are responsible," Professor Watson said.
Professor Watson's work has inspired researchers in Zimbabwe and Spain to take a closer look at mistletoe, as summarised is his latest article in the prestigious journal New Phytologist.
"This work digs deeper into the interactions of mistletoe in the environment by looking at how mistletoes affect ground-dwelling insects and the birds that feed on them," Professor Watson said.
"It's significant that in these vastly different environments the same patterns are emerging.
"From the monsoonal savannahs in Saharan Africa, to the tall pine forests in the Mediterranean and the eucalypt woodlands of Australia, it's now clear that mistletoe has a positive effect of diversity and ecosystem health.
"It's also clear that this pattern in driven by both bottom up and top down processes. From the bottom we see that mistletoe sheds enriched litter, effectively fertilizing nutrient-deprived soils and boosting productivity.
"But, with its nutritious leaves, fruits and flowers full of nectar, a range of top-down processes are also evident. Areas with mistletoe bring in more birds which, in turn, deposit seeds and nutrients and control leaf-eating insects."
Professor Watson said this greater understanding of mistletoe interactions is critical when it comes to restoring degraded ecosystems.
"Now that we have an understanding of how mistletoe affects diversity, we can use this knowledge to restore habitats, fast-tracking the conversion of degraded land into havens for wildlife."
Professor Watson's paper 'Fleshing out facilitation – reframing interaction networks beyond top-down versus bottom-up' has been published in New Phytologist in 2016.