A Charles Sturt University (CSU) scientist has identified the need for more research into seafood safety to protect the health of Australian consumers and workers in the local fishing industry.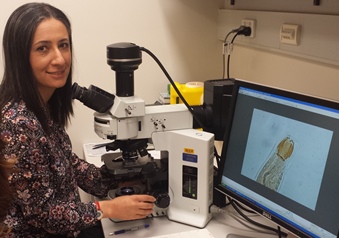 Dr Shofookeh Shamsi is a senior lecturer in veterinary parasitology, specialising in identifying species of parasites, especially aquatic parasites.
"Our knowledge of seafood-borne parasites is poor despite the fact they are commonly found in Australia's wild catch fish such as mackerel, flathead, snapper and whiting," Dr Shamsi said.
"With the increasing popularity of eating raw, exotic or under cooked seafood, comes the increasing risk of parasites infecting humans and causing diseases."
One such infection that can affect humans is known as anisakidosis from the aquatic parasites, anisakid nematodes.
"There are few reported cases in Australia of seafood-borne zoonosis but this could be due to misdiagnosis. There is also no standardised technique in Australia to diagnose these diseases."
The CSU academic believes that Australian regulations covering food safety and the importation of food are strict but she is concerned they do not sufficiently focus on parasitic diseases.
"The best means to prevent seafood-borne zoonotic infections - such as anisakidosis - is to ensure it is properly cooked or to eat raw seafood only in reputable restaurants where chefs are trained to recognise infected seafood.
"Educational campaigns are important as well to train all other parties involved with seafood and public health about these parasites.
"The economic value of the Australian fishing industry combined with the need to protect consumer health means we need to fill the current knowledge gaps.
"We need further research into the biology and ecology of these parasites and the risks they can pose."
The article, "Seafood-borne parasitic diseases in Australia: how much do we know about them?" by Dr Shokoofeh Shamsi was published in Microbiology Australia in March, 2016.
Dr Shamsi is in the School of Animal and Veterinary Sciences at CSU in Wagga Wagga. She is a member of the Graham Centre for Agricultural Innovation. Earlier this year she took part in the 15th Science Meets Parliament.