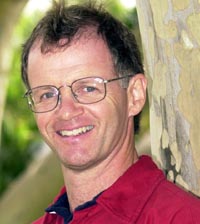 An iconic eucalypt tree growing in many areas burnt out in Victoria's Black Saturday fires is better at re-sprouting after fire than first thought, says a senior botanist at Charles Sturt University (CSU),
Dr Geoff Burrows
.
A CSU research team, consisting of Dr Burrows, Mr David Waters and Dr John Harper , found that the Mountain Ash, contrary to popular belief, can grow back from special 'buds' under its bark like most other eucalypts, as well as from seedlings that grow from seed in the ash covering the ground after a bushfire.
"The Mountain Ash or Swamp Gum, with the scientific name Eucalyptus regnans, is known as a fire-sensitive eucalypt that does not regenerate well after a serious bushfire," said Dr Burrows, who specialises in the ways that Australia's eucalypt trees regenerate after bushfires,
"In high intensity fires such as those seen on Black Saturday, the tree is killed and doesn't re-sprout from the base or the branches like almost all other eucalypts. Mountain Ash usually regenerate as fast-growing seedlings. This results in forests of Mountain Ash that are all the same size and age," he said.
"Recently, however, scientists have found Mountain Ash forests with mixed aged trees, indicating older trees here had probably survived less intense fires, re-sprouted from stems and branches and continued to grow, along with seedlings."
Forests of Mountain Ash are found in the hills and mountains of Southern Victoria and Tasmania, now mainly in national parks and State forests. The Mountain Ash is reputedly the world's tallest flowering plant, growing to a height of100 metres.
"After further investigation, the Charles Sturt University researchers found that adult trees had thick bark around the base of the trunk and remarkably thin bark higher on the stem, making them very susceptible to flames in the canopy," Dr Burrows said.
"It seems that Mountain Ash put most of their energy into growing very tall as seedlings, leading to these incredibly slender saplings and trees, and only grow thicker bark at their base later in life.
"We previously found that other eucalypts had unique fire-protected bud-forming structures deep in their bark. Other researchers had suggested that Mountain Ash was such a poor 're-sprouter' because it didn't have any buds in its stems and branches," he said
"However, we found that Mountain Ash does have the typical, highly specialised, eucalypt bud-forming cells. This means that older Mountain Ash trees can re-sprout as long as the fire is not too intense and the thin bark in the canopy can still protect them. It also means young trees and sapling are very susceptible to fire as they have thin bark and little protection for these buds."
The research is due to be published in the April issue of the
American Journal of Botany
.