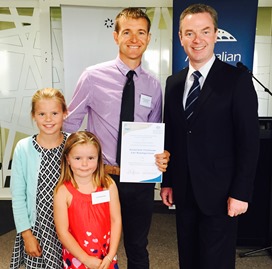 A young Charles Sturt University (CSU) scientist will represent Australia internationally after winning a national nomination recognising his research excellence in achieving food security outcomes in developing countries in the Asia-Pacific region.
In Adelaide on Friday 15 April the Minister for Industry, Innovation and Science the Hon. Christopher Pyne, MP, named fish ecologist Dr Lee Baumgartner as the Australian nominee for the APEC Science Prize for Innovation, Research and Education (ASPIRE) 2016 in Peru in August.
Dr Baumgartner is a Research Fellow in the University's Institute for Land, Water and Society (ILWS) in Albury-Wodonga and specialises in the field of fisheries sustainability. His collaborative research teams focus on developing and applying innovative technology to avoid the collapse of fisheries and provide food security through increased fisheries production.
Dr Baumgartner recently returned from leading a project to improve fish migration pathways in the Mekong River and has worked in countries such as Thailand, Laos and Vietnam where fish are an important source of food and income.
He works collaboratively with engineers, functional ecologists, water professionals and local communities, and has published widely on fisheries sustainability techniques that improve fish migration.
CSU Deputy Vice-Chancellor (Research, Development and Industry) Professor Mary Kelly said, "This major award recognises Lee's immense contribution to research and innovation in the APEC region, particularly in managing fish in major rivers such as the Mekong and the Murray."
Director of ILWS, Professor Max Finlayson said, "Lee is a worthy recipient. He has worked hard to extend the value of his research to assist others and share the results with those outside of the normal academic processes.
"APEC is an important organisation in our region and globally is providing leadership to strengthen international science and technology networks and enhance sustainable development."
The annual ASPIRE award recognises young scientists who have 'demonstrated a commitment to both excellence in scientific research, cooperation with scientists from other APEC member economies, and impact to APEC economies through commercialised research and market-led innovation'.
The ASPIRE theme for 2016 is 'Technologies for Food Security' focusing on technologies that improve food security, food safety, and nutrition to build resilient and healthy communities across the APEC region.