We often think of environmental conservation as establishing new habitats of native plants but two Charles Sturt University (CSU) ecologists believe establishing populations of common wildlife in new areas is just as important.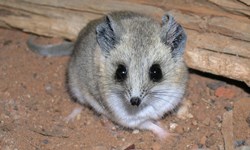 Professor David Watson and Dr Maggie Watson from the Institute for Land Water and Society (ILWS) at CSU in Albury-Wodonga have published a paper on this subject in the journal Biological Conservation.
"Up until now rehabilitating degraded ecosystems has focused on the plants with the notion that if you build a habitat the animals will come," said Professor Watson.
"Research shows us this just isn't the case. Conventional restoration may work for birds, bats and butterflies, but many animals and reptiles are unwilling or unable to move into regenerated habitats and are left effectively stranded."
The husband and wife researchers advocate moving common wildlife into un-occupied patches of habitat well before their populations begin to decline.
"The idea of moving animals around isn't new," said Professor Watson. "But it's usually a last ditch effort to avoid imminent extinction and often involves captive-bred animals released into pristine environments.
"We propose translocating already-wild animals from areas with healthy populations into other suitable areas of habitat where they don't currently live.
"This could be applied to wildlife like blue-tongue lizards and dunnarts in Australia—common species that are unable to recolonize habitats on their own.
"As well as alleviating pressure in those areas where the species remain, this will help the species to disperse and allow its population to increase.
"We call our proposal 'wildlife restoration' because it helps species overcome the problems of habitat fragmentation, much as forest restoration does the same thing for trees."
Professor Watson said the concept could be applied to green spaces within towns and cities.
"Urban landscapes contain lots of high-quality habitats where animals might be released including cemeteries, golf courses, parks and established gardens," he said.
"This presents the opportunity for further community engagement with wildlife preservation.
"Many agricultural landscapes also contain isolated pockets of vegetation and beyond that rehabilitated mines or industrial sites could offer useful places for wildlife restoration."
Professor Watson said wildlife restoration allows researchers to gain valuable information about the conditions needed to make translocation of a particular species successful.
"The ultimate aim is to play an active role in creating a future with more wildlife and functioning ecosystems in the places where we live and farm," he said.