Charles Sturt University (CSU) researchers are set to play a key role in developing a new approach for surveillance for emergency animal diseases.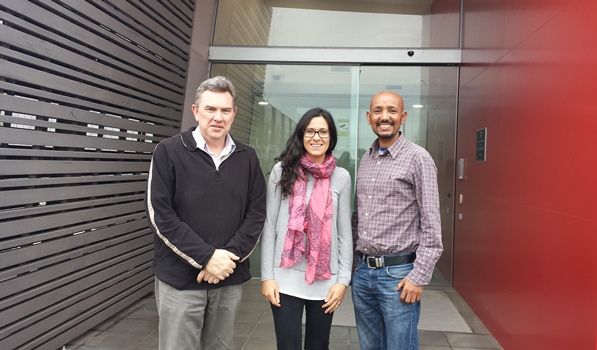 The research, through the Graham Centre for Agricultural Innovation, aims to develop a producer-led approach to improve early detection and control of outbreaks.
It's part of a wider $11 million project managed by Meat & Livestock Australia (MLA) through the Australian Government's Department of Agriculture and Water Resources as part of its Rural R&D for Profit programme.
Dr Marta Hernandez-Jover (left) and Dr Rob Woodgate (far left) from CSU's School of Animal and Veterinary Sciences will work closely with animal industry stakeholders.
A senior lecturer in epidemiology and veterinary public health, Dr Hernandez-Jover's research has focused on biosecurity in Australian livestock industries.
"Emergency animal diseases have the potential to cause significant economic and social disruptions and losses across all Australian animal industries," Dr Hernandez-Jover said.
"For example the Australian Bureau of Agricultural Resource Economics and Sciences (ABARES) estimates an outbreak of Foot and Mouth Disease could lead to $50 billion in losses over ten years.
"Surveillance is critical in ensuring an efficient and effective response to protect primary producers' livelihoods in the event of an incursion.
"As part of this project we'll be working with all animal industry stakeholders to redesign a new surveillance approach that is not driven by government perspectives, but works from the 'bottom up' of grower values so that it is 'owned' by producers themselves.
"The project will involve a nationwide data collection exercise to gain a better understanding of current practices and producers' attitudes and behaviours in relation to the management of emergency animal diseases.
"This will inform the development of a farmer-led surveillance system involving all animal industry stakeholders.
"The aim is to provide governments with guidelines on how to circumvent problems that impact negatively on the areas that are essential for early disease detection, control and eradication."
This research is part of a larger research project, Improved surveillance, preparedness and return to trade for emergency animal disease incursions using FMD as a model, led by CSIRO.
Senior CSIRO researcher Dr Yiheyis Maru, said this project will revolutionise the way in which we look for foot and mouth and other major infectious diseases in Australia.
"By taking an industry-focused approach to the problem we will see reduced economic impact on farmers, but also a more robust surveillance system, which is a win for industry and Australia's biosecurity system," Dr Maru said.