Charles Sturt University (CSU) wetland ecologist, Professor Max Finlayson, will outline his vision for restoring and managing water systems to regional business leaders from across the country.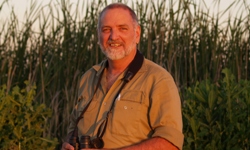 Professor Finlayson, the Director of the Institute for Land Water and Society (ILWS) at CSU in Albury-Wodonga, will deliver a keynote address at the Australian Regional Development Conference in Albury on Thursday 27 August.
"We've been talking about developing and sharing water resources since Federation," said Professor Finlayson.
"We've had strategies, agencies, authorities, water commissions and water sharing plans. Yet it is still contested ecologically, economically and socially."
Professor Finlayson argues water management operates within a complex socio-ecological system.
"There are neither natural systems without people, nor social systems without nature," he said.
"Human have influenced much of the land around rivers and wetlands. These systems are directly affected by the structures that regulate water to support our economies.
"We have a changing and variable climate and new challenges such as increasing urban demand for inland water and uncertainty about how Coal Seam Gas will fit in the water equation.
"We need to have a realistic baseline for developing plans to manage and restore our rivers and wetlands."
Professor Finlayson believes a socio-ecological approach should be taken to measuring river and wetland health.
"This could use an undisturbed historical baseline or it could use a new ecosystem baseline, which acknowledges existing human pressure and represents the maximum biodiversity potential of contemporary ecosystems," said Professor Finlayson.
"Management needs to be driven by informed and forward looking communities that are supported by governments. Developing management strategies needs to be participatory not just consultative."
The Australian Regional Development Conference program is available here. You can join the conversation on Twitter #ARDC15.