* Pakistan water researchers and technical experts visit CSU in Albury Wodonga to discuss groundwater use in their countries
* Pakistan and Australia face similar challenges regarding water use in a dry land
* CSU researchers working with Pakistani counterparts to develop models that aim to lead to better use of groundwater for farming
A group of Pakistani water management and technical experts is visiting Albury-Wodonga to investigate the local water management techniques adapted for southern Australia's dry climate.
The group will be hosted by Charles Sturt University's (CSU) Institute for Land, Water and Society until Tuesday 26 February.
"Collaboration between Australian and Pakistan water resource managers and researchers makes sense," explained ILWS researcher Dr Michael Mitchell.
"We face similar challenges in the Murray-Darling Basin as water managers experience in the Indus Basin, but there are also many differences, and great opportunities to learn from each other."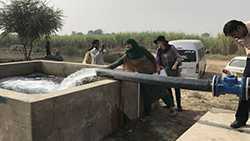 The group is on campus to develop groundwater models for a series of case studies in Pakistan, as part of a project funded by the Australian Centre for International Agricultural Research. The models will show groundwater levels in response to irrigation and climate change.
The project aims to provide groundwater users, who are farming families, and the provincial government departments, who manage irrigation water, with skills and means for improving groundwater management, and ultimately livelihoods.
The team will work with Dr Jay Punthakey, a groundwater expert and adjunct professor with ILWS. A key aspect of the project is to build capacity of early and mid-career researchers and managers, particularly as Pakistan is a water stressed country, as is Australia.
The group includes:
Mr Naveed Iqbal, Pakistan Council of Research in Water Resources
Mr Waqas Ahmed, Mehran University of Engineering and Technology
Mr Aurangzeb Memon, Sindh Irrigation Department
Mr Saleem Akhtar, Punjab Irrigation Department
Mr Abdul Razzaq Khilji, Balochistan Irrigation Department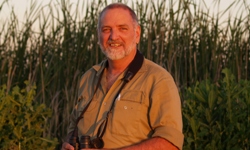 On Saturday 23 February, the group will be treated to a guided tour of the David Mitchell Wetlands on campus at CSU in Albury-Wodonga by the wetlands designer Dr David Mitchell, and ILWS Director Professor Max Finlayson (pictured left).
Professor Finlayson expressed admiration for the collaborative team-based approach used in the groundwater project to help reach its objectives.
"Setting out to achieve changes in practice by water users, water managers and water researchers was an ambitious aim. I am very impressed with the enthusiasm and effort our team has invested in bringing about these changes in Pakistan."