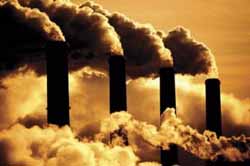 Charles Sturt University's (CSU) Professor Kevin Parton calls the legacy of the United Nations climate change conference in Paris the 'enshrining of the carbon-neutral economy'.
A senior researcher with CSU's Institute for Land, Water and Society (ILWS), Professor Parton said, "In future when we look back on this conference we will regard COP21 as a turning point. It marks the moment when the dominant global culture shifted to looking positively towards a carbon-neutral economy. This shift is exactly what is required for politicians around the world to commit to the deep cuts in carbon emissions necessary to mitigate climate change."
The positive outcomes of the conference include the acknowledgement that global carbon emissions must be restricted in such a way that global temperatures rise by no more than 2 degrees Celsius.
"The next step is ratification of the agreement and this will require many countries to agree to cut emissions by significantly more than their current pledges," Professor Parton said.
"For Australia, while our current emissions targets are intact at a 26 to 28 per cent reduction by 2030, the Paris agreement raises questions about how the stricter targets will be achieved.
"Current government policy is direct action, but this is only a short-term solution," he said. "The difficulty with direct action alone is that it gets costly to tighten the emissions target and gets very restrictive in terms of the amount of government involvement that is necessary. It is unlikely our current government will support such a scenario."
Professor Parton said, "Most economic analysis shows that emissions trading schemes (ETS) are the most efficient, lowest cost policy option so it is likely that economic pressure will encourage its adoption in Australia.
"ETS is the international standard, and every country that is seriously tackling carbon emissions has an ETS," he said.
In addition, the Paris Agreement acknowledges that compensation needs to be offered to developing countries in order to encourage them to forego fossil fuels. The immediate target is to raise $100 billion in compensation funds by 2020.
"These developing countries are the most vulnerable, not just because of the fossil fuel economy is so appealing to them, but also because they need special efforts to adapt to the effects of climate change, such as rising sea levels," Professor Parton said.
Read more about ILWS research on climate change here.