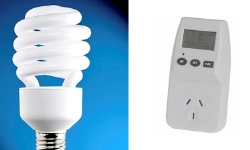 A new project at Charles Sturt University (CSU) will reach out to low income households in the city of Albury to support them to reduce their energy consumption.
'Powering down: an energy efficiency education project' is the brainchild of CSU senior lecturer in sociology, Dr Helen Masterman-Smith and lecturer in environmental education, Dr John Rafferty.
Funded through a $100 000 NSW Environmental Trust grant, the CSU academics want to showcase budget-wise, low-emission households as examples of affordable energy efficient living for the wider community.
Low income or disadvantaged households will be surveyed and invited to participate in a year-long energy efficiency awards program.
They'll be supported through the program by an outreach team, physical information hub, workshops, and financial assistance for practical changes within households.
There'll also be a six month Science, Technology, Engineering and Mathematics (STEM) investigation into cutting energy consumption conducted by local Year 5 students.
Dr Masterman-Smith said, "By investigating their school's attempts to reduce electricity consumption and costs, students can encourage their parents to participate in the community program, and to become more aware of ways to reduce electricity consumption and seek changes at home.
"This project is important because 'costs' are often thought to be a major barrier to household emission reductions.
"This is even though Australian Bureau of Statistics data show that low income and other 'hard to reach' households consume less energy on average.
"A key challenge is that these households also spend a greater proportion of their income than average on energy costs, are at higher risk of energy stress and thermal discomfort, and often face barriers to accessing energy efficiency resources and support."
Dr Rafferty said, "We felt that the Albury local government area is a good test site because it endures hot summers and cold winters, which tend to produce high energy consumption and costs."
The 18-month project begins in February and is being supported by Albury City Council, the NSW Office of Environment and Heritage and a number of local primary schools.