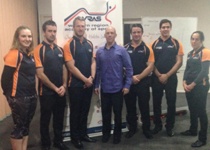 A Charles Sturt University (CSU) and Western Region Academy of Sport (WRAS) in Bathurst collaborative program for strength and conditioning interns has again received a prestigious award from the United States.
The CSU-WRAS Strength and Conditioning Internship Program is the only program outside the US to receive the 2014/15 Strength of America Award from the National Strength and Conditioning Association (NSCA).
Program coordinator Dr Stephen Bird, senior lecturer at the CSU School of Human Movement Studies, said the award is for excellence in delivery of strength and conditioning programs to high school athletes.
"Only 19 programs received the Strength of America Award this year, and we're the only non-US program to receive it," Dr Bird said. "This is the fourth time. We also received it in 2010/11, 2012/13, and 2013/14, and we remain the only non-US institution among the award recipients.
"In addition, our undergraduate Bachelor of Exercise Science degree which includes Strength and Conditioning subjects has been approved as an NSCA Recognised Strength and Conditioning Program. Our undergraduate degree is one of only three university programs in Australia to be recognised.
"I thank all who have contributed to the success of the program as it is a credit to our strength and conditioning interns."
The program involves final-year CSU exercise science students doing internships which provide scientific knowledge and programming expertise, allowing them to train youth athletes systematically and safely to improve sports performance and reduce the risk of injury. The interns provide individualised strength and conditioning programs for WRAS squad athletes.
"Completion of the Strength and Conditioning Internship Program provides interns with proficient skills and knowledge they require as early-career strength and conditioning professionals," Dr Bird said. "Interns complete 500 hours of professional placement during which they develop advanced planning and coaching of physical skills such as lifting, stretching and conditioning techniques."
So far, 29 CSU students have completed the Strength and Conditioning Internship Program, after which they may be eligible for accreditation under the Australian Strength and Conditioning Association (ASCA) Professional Structure Intern scheme. Previous CSU-WRAS interns, Norm Moore (Kinros Rugby), Amanda Hopper (Warriors netball), Mitch Cameron (GWS AFL), Alex Kertesz and James Tatham (NSW Waratahs), Ben Rushton (ACT Brumbies), and Will Stuart (ARU) are now working within the strength and conditioning profession with elite teams. Along with the four Strength of America Awards (2010/11; 2012/13; 2013/14; 2014/15), the Strength and Conditioning Internship Program received a NSW Sports Safety Award for injury prevention in 2007, and the NSW Sports Safety Award for 'Outstanding education and promotion of safe sport practices' in 2009.