A Charles Sturt University (CSU) ecologist argues proposed changes to biodiversity legislation in NSW are a recipe for an environmental disaster of unprecedented scale.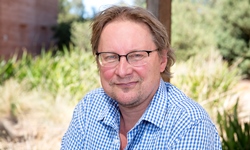 In his public submission on the reforms, Dr Peter Spooner from the Institute of Land Water and Society (ILWS) at CSU in Albury-Wodonga, says the proposed laws will lead to further land degradation, native vegetation loss and species extinctions.
The NSW Government claims the reforms will 'overhaul ineffective, complicated environmental laws and create a new system that improves both environmental outcomes and farmers' productivity'.
But Dr Spooner believes the current legislation already allows farmers to clear trees without much interference.
"This legislation threatens to un-wind decades of sustainable farming practice and Landcare achievements. In these new laws, the environment is perceived as an obstacle to intensified farming, urban development, and other large-scale developments such as mining," Dr Spooner said.
"As a result, I fear that broad scale clearing will erupt in NSW with devastating social, economic and environmental consequences. Premier Mike Baird will be remembered for this legacy."
In his submission Dr Spooner raises concerns about accuracy of the satellite mapping of native vegetation, which forms the basis of a self-assessment approach by farmers to clear trees.
"The scale of the mapping ignores fine details such as paddock trees, and other smaller ecological elements," Dr Spooner said.
"The map provides simplification and clarity but, of serious concern, ignores key complexity which makes the environment 'work'. It is unclear how listed endangered or vulnerable species and communities are included in this map."
Dr Spooner is also critical of the use of biodiversity offsets in the proposed legislation.
"The promise of offsetting is that development can happen and biodiversity will be no worse off but this concept is flawed," Dr Spooner said. "You can't replace a clump of 200 year old paddock trees with a bunch of new seedlings. That is not like for like."
Dr Spooner has welcomed the commitment of $240 million over five years to support private land conservation.
But he says there needs to be more funding for monitoring, compliance and for assessing biodiversity elements on farms.
"Agencies require appropriate resources to conduct diligent, independent assessments of tree clearing activities by farmers and developers," said Dr Spooner.
"The environmental components which farmers and other landholders conserve ensure their future livelihoods, but also serve a public good. Likewise, urban environments require healthy neighbouring ecosystems for clean water and the air we breathe.
"Therefore we need to provide policy and program incentives to conserve the environment, not destroy it."
The period for public consultation on the proposed reforms closed at the end of June and the NSW Government plans to introduce the legislation into Parliament in October 2016.