A Charles Sturt University (CSU) research student aims to help sustainably manage a popular angling fish species in Victoria.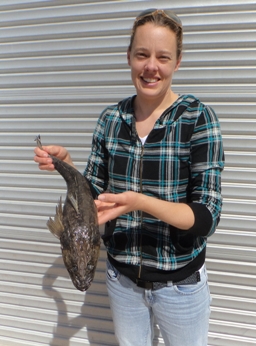 Bachelor of Science (Honours) student Ms Tara Hicks, from Mallacoota in East Gippsland, is redressing a lack of knowledge about the dusky flathead in a project funded by the Victorian Department of Environment and Primary Industries (DEPI).
"There is actually no research on the reproductive biology of dusky flathead in eastern Victoria," Ms Hicks said.
"Some research has been done in NSW but we're not sure if it applies in Victoria.

"I am looking at the relationships between the body size of the dusky flathead, egg quality and fecundity or egg numbers.
"The study aims to contribute to the sustainable management of the species.
"I want to know whether or not there is a particular body size range which has a greater contribution to the population by producing better quality and more eggs."

There is no commercial fishing for dusky flathead, or Platycephalidae fuscus, in Mallacoota but the species is fished commercially further south at Lakes Entrance.
While Fisheries Victoria has set an upper size limit for female dusky flatheads caught by recreational anglers in East Gippsland, it is unknown whether the size limit is an effective management strategy.
"This research will help determine if current size restrictions are an appropriate long-term management strategy," Ms Hicks said.
Ms Hicks is collecting samples (the fish carcasses after the fillets have been removed) from recreational anglers who she has sought out via word-of-mouth, flyers and through her local newspaper the Mallacoota Mouth.
"We'll probably also be doing a bit of sampling in the field," Ms Hicks said.
"Because there is a 55-centimetre size limit for recreational anglers, we can't get those bigger fish from them but we need samples from a variety of sizes.
"Despite being a recreationally and commercially important species, the dusky flathead hasn't been well studied which is why the research we are doing is so important."
Ms Hicks chose the project because it was feasible to do from her base in Mallacoota and because recreational anglers are concerned about the long-term sustainable management of the species.
"I'm really interested in fisheries research and the conservation and management of sustainable fisheries," she said.
Ms Hicks is studying by distance education through the School of Environmental Sciences at CSU in Albury-Wodonga. She is also a member of the University's Institute for Land, Water and Society.