New treatment methods that change the way that people stress syllables when they speak, could help reduce stuttering, according to research by a Charles Sturt University (CSU) academic.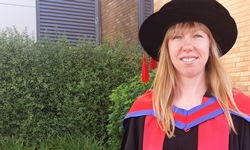 A lecturer in speech pathology at CSU's School of Community Health in Albury-Wodonga, Dr Lisa Brown's PhD investigated three different treatment methods for stuttering.
"I wanted to identify if there were any common changes in the speech pattern of people who stutter following different treatment methods. This is because changes common across treatments could suggest a previously unknown 'active ingredient' for stuttering reduction," said Dr Brown.
"My research examined three treatment methods, pro-longed speech (PS) for adults, syllable timed speech (STS) for school and pre-school aged children and altered auditory feedback (AAF) for adults.
"Before and after these treatments we compared several speech and language variables, suspected to play a role in stuttering reduction."
The results indicated that following PS and STS treatments, several participants showed reduced variability two components of syllabic stress, vowel duration and pitch, when speaking without stuttering and that they maintained normal sounding speech.
"This is exciting for people who stutter as it identifies a specific target for treatment that might lead to improved treatment effectiveness," said Dr Brown.
"I also saw individual variation between participants, which is a reminder of the unique nature of each individual speaker, and the need for individualised care.
"Overall, the research has shown there's merit in trialling new treatment methods for people who stutter that reduce the variability of syllabic stress in their speech, and also allow for individual patterns of progression through treatment."
Dr Brown hopes to carry out more research focusing on treatment for adults who stutter.
"More research is needed to determine whether teaching a speaker to deliberately change the way they speak, by flexibly changing their syllabic stress, will result in a reduction of stuttering," said Dr Brown. "If so, we also need to investigate if that can be maintained in typical speaking environments."
Dr Brown was awarded her PhD in a CSU graduation ceremony in Albury in December 2015.
CSU offers a Bachelor of Speech and Language Pathology and Bachelor of Speech and Language Pathology (Honours) through its School of Community Health in Albury-Wodonga.