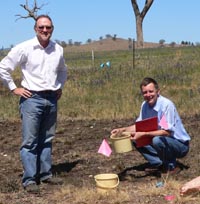 Practical solutions to restore one of Australia's most threatened ecosystems – the endangered white box grassy woodlands of south eastern Australia – is the aim of researchers from CSIRO and Charles Sturt University's (CSU)
Institute for Land, Water and Society (ILWS
).
The researchers are part of a new project looking at different non-chemical methods, such as re-seeding, crash grazing, burning and reducing available soil nutrients by adding sugar to the soil, to re-establish native grasses in degraded sites.
The project will also compare the effectiveness of different combinations of native grasses for keeping weeds at bay over the longer term.
Before European settlement, white box grassy woodlands covered vast areas of south-eastern Australia from southern Queensland to north-eastern Victoria. However, much of this country has been developed for agriculture and remnants of the original ecosystems are now small and fragmented.
"Unfortunately the understorey in most remnant woodland patches is highly degraded and dominated by introduced plants, especially annual grasses and weeds such as capeweed and Paterson's curse," says Dr Suzanne Prober, a senior research scientist at CSIRO who has been working to conserve and restore grassy white box woodlands for the past 18 years.
"Land managers are crying out for simple practical ways to improve the environmental quality of remnant woodlands. Recent trials near Young in central NSW showed that perennial native grasses such as Kangaroo Grass play a critical role in restoring degraded woodlands by helping to control soil nutrient levels and, in turn, exotic weeds.
"For the new project we want to develop practical ways of restoring woodlands over larger areas and also see whether other native grasses, such as Wallaby-grasses, Spear grasses and Poa tussock grass, can help to restore nutrient cycling and control weeds."
The new seven year project has been funded by a NSW Environmental Trust Research Grant and the Murray Catchment Management Authority, with support from the Hume Rural Lands Protection Board (RLPB) in southern NSW and Sugar Australia, who have donated four tonnes of sugar.
Associate Professor Ian Lunt, with ILWS, says two Travelling Stock Reserves in southern NSW - one a very degraded site north of the Hume Dam and another near Gerogery - have been selected as demonstration sites and site preparation has begun. Ian Cole, a senior natural resource officer with the NSW Department of Environment and Climate Change and CSU PhD student, also plays a key role in the project. Ian's PhD study is being supported by the Cooperative Research Centre for Future Farm Industries.
"We have already found that native grasses can reduce available soil nutrient levels by storing nutrients in their roots and leaves," says Professor Lunt. "This then starves exotic weeds and grasses of nutrients and gives a long-term sustainable solution to controlling weeds. The trick now is to work out the simplest ways to get native grasses into weed dominated sites and which combination of native grasses best control weeds."
In previous trials, the researchers found applying sugar was very successful in helping establish Kangaroo Grass as the sugar reduced the soil nutrients available to competing exotic weeds. The sugar fed soil micro-organisms which absorbed lots of soil nutrients as they grew and so the weed species were 'starved.'
"We used sugar as a tool to find out what the real problem was in getting native grasses to re-establish – this was the interaction between weeds and nutrients," says Dr Prober. "Now we are working out ways to overcome the problem. In particular, if the native grasses we reintroduce really do take up the nutrients over the long term, then that's a sustainable solution. Sugar is just one way of achieving this outcome."
Jack Chubb, Program Manager for the Murray Catchment Management Authority, says the CMA supports the project as it provided an excellent opportunity to develop new ways to help reach catchment goals for biodiversity conservation.
"The field days that are planned for the demonstration sites will provide an opportunity to see how well things have performed on the ground and to give land managers a new set of tools for managing native grasses," he says.
A major challenge faced by understorey restoration projects was that they often treated symptoms rather than the underlying causes of the problem.
"One of the main reasons why many remnants are dominated by exotic grasses and weeds are that we have raised soil fertility levels, which allow weeds to grow more than native species," says Dr Prober. "If we want to control weeds, then we need to control nutrient levels. If we don't, then all our hard work won't last in the long term."