Young academic Nick Klomp wasn't sure how long he would stay when he first joined Charles Sturt University (CSU) in 1991. After all, this was his fifth university in nine years of study, research and teaching, and he had just returned to Australia after completing his PhD in Britain. But that was over 20 years ago, and Nick has grown to lead one of the largest faculties in Australia. [see
Background notes below
]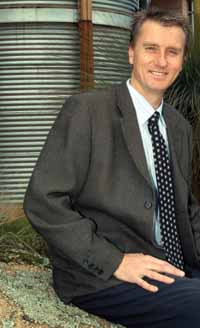 What Professor Klomp discovered when he arrived on the Border region between NSW and Victoria was a young university with more connections to its local communities than he had ever experienced. "I was a city kid, and I thought I knew about universities. But working at Charles Sturt University taught me about the importance of regionally-based universities to rural and regional Australia.
"Having a vibrant, comprehensive university located in regional areas makes higher education more accessible to individuals who can't or won't move to a metropolitan university — and that's really important — but a regional university offers even more than that.
"Governments, businesses and other industries often rely on Charles Sturt University graduates for their professional workforce because it is often very difficult to attract fully-trained professionals away from the cities.
"Regional towns and communities with a university campus close by are better able to retain their young adults, so it helps make the communities more sustainable and vibrant. And the presence of a university helps to attract families to the regions as well."
Professor Klomp passionately supports the need for research appropriate to the needs of regional areas.
"When it comes to environmental management and sustainable agriculture, the action is all in regional centres. I am annoyed when I read estimates that show up to 80 per cent of research money put into environmental and agricultural issues is spent in metropolitan areas. That is missing opportunities to grow regional areas and to concentrate research where the action really is," he said.
Professor Klomp has also been a staunch advocate for getting science out of the laboratory and into the lounge rooms of all Australians. He was a weekly science correspondent for ABC radio for 11 years, until 2011. He was presented the CSU Vice-Chancellor's Award for Teaching Excellence and has been thrice nominated for the national Eureka Prize for the Promotion of Science. He is still regularly approached by various media outlets to comment on all things science.
"I think that talking on radio is particularly important for rural and regional areas. In metropolitan areas you can turn the dial or walk to another suburb and get to another guest speaker, another museum, another visiting academic from overseas. That's access you simply don't have in a regional area," Professor Klomp said.
"A regional university needs to have almost double the effort in the communication of science to its communities, because if the university isn't doing it in the region, you really can't rely on the resources of metropolitan areas leaking out very much to regional areas."
To this end, Professor Klomp has tirelessly promoted science in the community via public displays, science days, National Science Week activities and school talks.
"When I became CSU's Dean of Science, I was able to add some resources to my real bias of promoting science," he said.
"I initiated Science@CSU to promote our courses and science in general to various communities, school children and the general public through open days, displays, guest lectures and visiting groups, most of which are free to participants. These activities can be costly for the Faculty and Charles Sturt University, but I feel they are an important part of what a university does for a community, and particularly important for rural and regional areas."
Professor Nick Klomp will join the University of Canberra on Thursday 5 July.
Background notes:
In more than 20 years at CSU, Professor Klomp has been a Lecturer, Senior Lecturer, Sub-Dean, Associate Professor, Research Centre Director, Professor of Environmental Management, and then Head of the School of Environmental Sciences. He has taught thousands of students in a variety of science subjects, published two books and around 60 refereed papers, and was a regular science correspondent for local and national radio.

Over the past five years, Professor Klomp has been the Dean of CSU's Faculty of Science, which is among the largest and most diverse science faculties in Australasia with around 9 000 students and hundreds of staff in seven schools across six campuses in NSW and overseas.

Disciplines within the Science Faculty range from Veterinary Science to Dentistry, Nursing to Environmental Science, Forensic Biotechnology to Wine Science, Agriculture to Allied Health and much more.

Highlights over the past four years include enormous growth in the Faculty's research and teaching programs, substantial building projects, and many new collaborations with government, industry and education providers.

Specific highlights he lists include the delivery of the Dental and Oral Health programs, the first graduates in the Veterinary Science program, and huge expansion of science and health programs in CSU's newest campuses in Orange and Port Macquarie.

Other major projects in CSU's Faculty of Science include over $20 million from national Health Workforce Australia (HWA) and $34 million from the national Education Investment Fund.