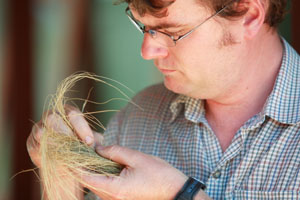 "Serrated Tussock has the potential to bring sheep farmers to their knees," according to Charles Sturt University's (CSU) Mr Aaron Simmons.
A postdoctoral research fellow at CSU, Mr Simmons is conducting research that will give local farmers new tools in their battle against this nationally significant weed in native pastures.
Serrated Tussock is regarded as one of the worst weeds in Australia's agricultural areas because of its invasiveness, spreading potential and economic and environmental impacts.
"The weed is unpalatable so sheep won't eat it," Mr Simmons explains, "but if pasture isn't managed using the best guidelines available, it will spread rapidly and the carrying capacity of the land will be drastically reduced."
This thinned leafed grass with a deep fibrous root system came to Australia from South America early in the century. Today it costs Australia more than $55 million a year, and infests more than a million hectares in NSW, Victoria and Tasmania.
"Serrated Tussock closely resembles several native grasses," Mr Simmons says. "Farmers must be careful not to confuse the noxious weed with native Poa grasses. The only obvious difference is a small, clear flap at the V joint of two connecting throngs."
Meat and Livestock Australia (MLA) and Australia Wool Innovations have funded a four year research project. MLA Project Manager Cameron Allan believes this research is important to the future of livestock production.
"Serrated Tussock has direct impacts on production from pasture paddocks, as well reduced species diversity and resilience," Mr Allan says. "Both affect profitability of livestock producers in the short and longer terms."
The research is being conducted on two different soil types to determine which combinations of grazing management, herbicide and over-sowing will be most effective in controlling low, medium and high density infestations.
To help farmers battle this weed, other areas are also being researched. These include the use of plant hormones to improve the palatability of the weed, determining whether compounds that leach from native grasses inhibit the germination and growth of Serrated Tussock and whether manipulating soil fertility can give the native grasses an advantage over the noxious weed.
"The use of (herbicide) Fluproponate on a broad-acre scale will damage existing native grasses and therefore provide attractive areas for Serrated Tussock to grow, so it is important to look for alternatives to herbicides," says Mr Simmons.
Mr Simmons' research project will not only provide information on Serrated Tussock but also provide general rules for farmers wanting to increase the content of native perennial grasses in their pastures.
"Any solution will involve a long term strategy. It is hoped that native grasses will be encouraged to grow and eventually overrun this weed," he said.