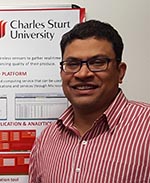 A Charles Sturt University (CSU) research team is examining how 'smart agriculture' can help Australian farmers take advantage of growing global food markets.
"Smart agriculture could help open the door by increasing efficiencies and increasing production," said Dr Sabih Rehman, a lecturer in the CSU School of Computing and Mathematics in Wagga Wagga.
'Smart agriculture' combines the use of various wireless sensors to gather and monitor real-time climate and production data, which is then forwarded into computer models to help farmers make informed decisions.
"The introduction of the National Broadband Network into regional Australia will further encourage smart agriculture as it should allow fast, reliable and uninterrupted internet access for remote communities," said Dr Rehman.
Dr Rehman along with Dr Lihong Zheng are developing innovative, customised and low cost technology for use in any agricultural setting using wireless sensors.
"Soil moisture, temperature and humidity are some essential hydrological and climatic factors that influence agricultural production and can vary widely across a farm.
"In general, combining the use of wireless sensors and remote sensing data can give machinery precise instructions for farming operations such as spraying, seeding, irrigating and harvesting."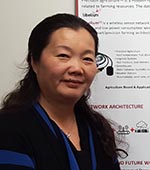 Dr Zheng, a senior lecturer in CSUs' School of Computing and Mathematics and an expert in machine learning and image analysis, recognises the importance of using modern technology in agricultural settings.
"Remote sensing of farm paddocks can play a key role in monitoring various climatic and hydrological factors and in establishing precision agriculture setting to address the changing environment in paddocks," Dr Zheng said.
"For example, a number of crop, soil and climate sensors could be deployed in paddocks to record and analyse up-to-the-minute environmental data.
"When combined with longer term remote sensing data, this could allow more efficient and targeted use of fertilisers and agricultural chemicals, which could reduce chemical use, save the local environment and save farmers money."
The research team is also exploring the use of agricultural drones in conjunction with this research to enhance the communication and data capture in larger paddocks.
The research team includes Bachelor of Information Technology students, Mr James Muir and Mr Nathaniel Hill, who have developed a 'cloud' based software architecture to store the large amount of data acquired through the sensors. This can be further enhanced to store images captured by drones for further analysis.
In addition, the CSU team has developed a software application suited to a mobile phone or a desktop computer that uses data from wireless sensors to monitor various irrigation and harvesting operations remotely.
"We have shown that the huge volume of data from sensors can be managed and manipulated to help build, deploy and manage services that can assist farmers to make informed decisions that enhance the quality and quantity of their produce," Dr Zheng said.