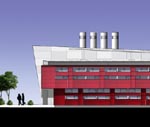 A ground-breaking material which helps regulate temperatures inside buildings will be used on the new academic offices to be constructed on Charles Sturt University's (CSU) Albury-Wodonga Campus in 2007.
Developed by German-based industrial chemical company BASF, the building material is in the form of special boards similar to plaster board. These boards include small granules of a waxlike material that liquefies at higher temperatures, increasing its capacity to absorb heat from surrounding air.
"One of these 15 millimetre thick boards can store the same amount of heat as a slab of 100 millimetres thick concrete," said CSU program director Caoimhin Ardren.
"They allow us to build an integrated energy system that drastically reduces energy costs without using expensive refrigerative air conditioning currently found in most modern Australian office blocks. They also allow us to build a light weight building without using thick, heavy walls to store heat."
The two-storey $3 million academic offices will incorporate a conventional evaporative cooler, which will be used almost exclusively at night to cool the building. This significantly reduces energy costs as only cheaper off-peak power is used.
"The building design combined with the air conditioning system will maintain stable temperatures in the offices," Mr Ardren said.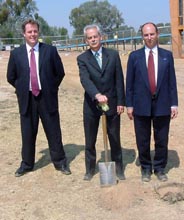 Lance Barlow from BASF said the special properties of the boards effectively absorb daytime temperature peaks, "actively improving the indoor climate.
"We can potentially manage temperatures without energy intensive air conditioning and could revolutionise building insulations in hot climates such as Australia," Mr Barlow added.
Country Energy is providing expertise in locating sensors and meters in the building to better monitor and manage energy use, further reducing running costs and providing important information about the efficiency of the material.
"The design of this building incorporates the lessons we learnt in the earlier buildings on the Thurgoona site since 1995 and demonstrates the University's commitment to sustainability," said CSU Vice-Chancellor, Professor Ian Goulter.
"We are aiming to construct a public building that minimises air conditioning and energy used by improving building insulation and overall design. The building will be a showcase in energy saving for all Australia while also reducing carbon dioxide emissions as we use less power," he said.