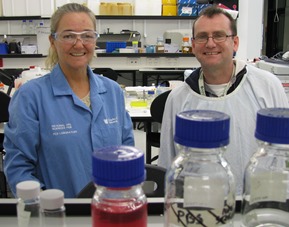 Cutting edge research using stem cells is underway at Charles Sturt University (CSU) to better understand and help develop treatments for Motor Neurone Disease (MND).
MND is the name given to a group of diseases in which the nerve cells, or neurons, controlling the muscles that enable us to move, speak, breathe and swallow, progressively die.
The research by Dr Robyn Wallace and Dr Padraig Strappe from CSU's School of Biomedical Sciences in Wagga Wagga uses neuronal stem cells.
"The motor neuron cells that are affected in MND patients are located within the brain and spinal cord and therefore can't be biopsied for research studies," said Dr Wallace.
"Cells that are accessible from MND patients include skin cells and neuronal stem cells located in the nasal cavity."
Using a technique developed by Dr Strappe, these more easily obtainable stem cells will be converted into functional motor neurons.
"The resulting motor neurons will provide the unique opportunity to rapidly screen new bioactive compounds for their therapeutic potential," said Dr Strappe.
The motor neuron cell model can also be used to test the role of newly identified genetic factors.

Dr Wallace said in the future motor neurons generated from MND patient cells could also have the potential to be used in transplantation therapy.
The researchers will talk about their work at a free public lecture at CSU in Wagga Wagga on Tuesday 25 August, being hosted in conjunction with the Motor Neurone Disease Association of NSW.
"We are holding this lecture to engage with the local MND community, including patients, their families and carers, said Dr Wallace.
"In Australia, about 1 900 people are living with MND and the average survival time after diagnosis is two to three years.
"There's no known cure and no effective treatment but there is hope. World-class research is being carried out right here at Charles Sturt University in Wagga Wagga and we want to share that.
"We'll also provide an update on the latest research in Australia and the world that aims to understand what causes MND and be able to cure this devastating disease."
A tour of CSU's award-winning National Life Sciences Hub (NaLSH) will follow the public lecture. Members of the public can attend by contacting the School of Biomedical Sciences via email.
The research is being carried out in collaboration with the Australian Research Council (ARC) Industrial Transformation Training Centre for Functional Grains.