The latest research tools for the Australian wine industry will be showcased in a conference at the
National Wine and Grape Industry Centre
(NWGIC) at Charles Sturt University (CSU) in Wagga Wagga on Wednesday 12 June.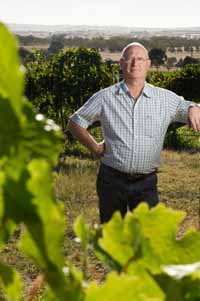 NWGIC Director Alain Deloire
said the
Innovative Directions for the Australian Wine Industry
conference is an opportunity for two-way communication between researchers, grape growers and wine makers.
"Research at the National Wine and Grape Industry Centre aims to help growers and wineries to be more profitable and sustainable," said Professor Deloire. "Key priorities include increasing the diversity of wine styles and working across the value chain from vineyard to consumer to develop integrated programs and decision-making tools."
The conference will be opened from 9.30am by CSU Deputy Vice-Chancellor Research Professor Sue Thomas, NSW Department of Primary Industries Leader Southern Horticulture Dr Shane Hetherington, NSW Wine Industry Association President Mr David Lowe and Grape and Wine Research and Development Corporation (GWRDC) Research and Development Program Manager Dr Liz Waters.
Professor Deloire will address the conference before a series of short presentations highlighting the latest NWGIC research. These will cover topics such as tools for rapid bunch rot detection in grapes and wine; a research tool for a warming climate; measures of wine sensory properties; an innovative method to predict the harvest dates and possible related wine styles; new tools to define wine styles and measure consumer preference.
A panel discussion on directions for the Australian Wine Industry will feature CSU's Professor Sue Thomas, CSU sensory scientist and NWGIC researcher, Dr Anthony Saliba, NSW Wine Industry Association President Mr David Lowe, Swinging Bridge winemaker and CSU graduate Mr Tom Ward, Brown Brothers chief viticulturalist Mr Brett McClen and GWRDC's Dr Liz Waters.
The NWGIC is an alliance between CSU, the NSW Department of Primary Industries and NSW Wine Industry Association. Located at CSU in Wagga Wagga, the Centre is a resource for the research, education, training and extension for the Australian wine sector.