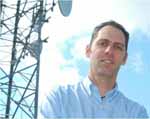 A fast national broadband network should be as much about delivering social benefits to all Australians as it is about driving national economic growth, according to a Charles Sturt University (CSU) researcher.
As the major political parties roll-out their 2010 Federal election policies, Mr Peter Adams, an adjunct researcher with the CSU
Centre for Research in Complex Systems
(CRiCS), says a fibre-based broadband network will help shift Australian society to being less about where people live and more about how they can contribute.
Mr Adams' research has found that lifestyle decisions are the main motivation for households' intention to move to high-speed broadband.
"People want a high-speed connection to improve areas like their family members' education, career, family activities and health outcomes," he said.
"These issues rated higher than the cost of the service in influencing their intention to move to high-speed broadband."
Mr Adams says that high-speed broadband to the household is as much an economic driver as social infrastructure.
"Broadband to households is about both social and economic outcomes, because 68 per cent of small businesses are based from households, and small businesses employ over 50 per cent of the private sector workforce."
Mr Adams believes there are several key issues for people living in rural and regional Australia to consider.
"Do we want a second-best wireless solution compared to the fibre network our city cousins will receive?" he asks.
"While wireless networks need to have a role in providing access to some more remote areas, a fibre solution needs to be delivered to as many rural and regional towns as possible to ensure equity of access to, among many things, the emerging benefits of e-health and online education initiatives.
"Rural and regional Australia will only benefit from a network which separates the wholesale supplier of the network from those companies providing services over that network, otherwise it will be like allowing one trucking company to own the Hume Highway.
"Is a monopoly provider of access and services in rural and regional areas likely to deliver the same range of services in a price-competitive way compared with the city networks where a range of service providers will compete?"
The CSU researcher says the question of equity of access to high-speed broadband between city and country residents will have long term implications for the economic and social health of rural and regional Australia.
"A fast broadband network is as much about social benefits as it is about driving economic growth. There are opportunities to deliver improved health services, quality educational outcomes, and environmental benefits through smart grids, regardless of where you live on a fibre-based broadband network. The more remote your location, the more a fibre network will open up making extra services available to you.
"Access to social and commercial services on a fibre-based broadband network will take geography out of the equation," he said.