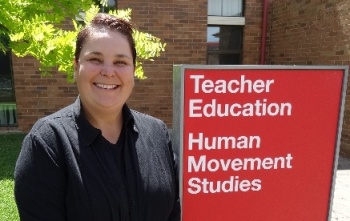 Researchers from Charles Sturt University (CSU) recently capitalised on the 2014 Pan Pacific Masters Games on the Gold Coast by presenting papers, competing, and conducting research with women competitors.
Dr Chelsea Litchfield, Dr Rylee Dionigi, and Dr Jacquelyn Osborne, lecturers and researchers at the CSU School of Human Movement Studies in Bathurst, surveyed women participants for their research project titled 'The experiences and perspectives of women in Masters sport'.
Dr Litchfield said, "This project allows female athlete participants to share their experiences of participating in Masters level sporting events. The 2014 Pan Pacific Masters Games featured more than 13 000 participants from around the world in more than 40 sports. We surveyed women from Australia, Papua New Guinea, and New Zealand.
"The survey specifically looked at the women's right to leisure, self identity, their sporting experiences, as well as their perspectives on issues relating to sport and gender, sport and ageing, and sport in the media."
Dr Litchfield explained that the 'Masters' category is defined as 'beyond the peak age for performance for each sport'. While the ages might vary, most Masters events start around 30 years, but a sport like swimming starts at 18 years.
The purpose of the research is to understand the motives for being involved in the Masters Games (that is, competitive sport); the lived experiences and practices of women participating in a Pan Pacific Masters event; and the barriers, if any, that women participants had negotiated over the course of their life in order to regularly participate in Masters level sport. For example, did they have to negotiate childcare responsibilities, domestic roles, relationships with significant others, stereotypes, homophobic attitudes, club and team politics, physical limitations, and so on.
"At present, we have over 120 participants," Dr Litchfield said. "We estimate that by the end of the data collection period, we will have 150 to 200 completed surveys. As far as we know, it will be one of the largest collection pools of information in Australia that specifically examines these issues for women's Masters athletes.
"The findings may be of benefit to Masters event organisers, state and national sporting organisations and government organisations, particularly the Confederation of Australian Sport, (CAS). We have been in discussion with Mr Rob Bradley, the CEO of CAS, about this project and he is very interested in projects on women's sport.
"In our other projects in this area, we have found that veteran women athletes are often very competitive in their sporting pursuits in these types of competitions. However, the Masters Games environments also provide a space for the women to act out behaviours that they would not normally engage in, such as heavy alcohol consumption, pranks, and dressing up. Therefore, their lived experiences during these events is worthy of further research."
The 2014 Pan pacific Masters Games also featured an International Sport Science Symposium. Dr Rylee Diongi was one of the organisers. Dr Litchfield presented a paper titled, 'Rituals, competiveness and entitlement in women's veteran's hockey'.
Dr Litchfield also competed in A grade golf and won a gold medal.
"I had to compete against others outside my age group," Dr Litchfield. "It was very wild weather and we even got called off the course on the second day because of the danger posed by a lightning storm."