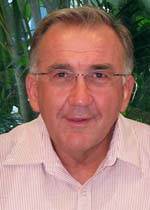 Re-emerging concerns about food security is just one symptom of the declining trend in Australian agricultural productivity and in investment in agricultural research, according to Dr John Mullen, adjunct professor at the Charles Sturt University (CSU) Faculty of Business.
Dr Mullen was recently made a Distinguished Fellow of the Australian Agricultural and Resource Economics Society (AARES) at its annual conference at Cairns in February 2009 in recognition of his research into the economics of agricultural research in Australia, and for his service to AARES, having served as President, and as co-editor of Australian Journal of Agricultural and Resource Economics (AJARE).
Using data from the Australian Bureau of Agricultural and Resource Economics (ABARE), Dr Mullen estimated the rate of productivity growth in Australian broadacre agriculture since 1953.
"For much of this period productivity has grown at a rate of 2.5 per cent per year, but in recent years broadacre productivity may be growing at not much more than 1.5 per cent per year," Dr Mullen said.
Dr Mullen has also tracked public investment in agriculture research in Australia, which grew strongly until the late 1970s.
"There has been little growth in real research expenditure in the last 30 years, and relative to the size of the agricultural sector, public investment has fallen, particularly in Commonwealth and State research institutions," Dr Mullen said.
"Australia shares these downward trends in agricultural productivity and in public investment in research with other developed countries. These are worrying trends because in coming decades agriculture needs to adapt to climate change while world population is projected to grow by up to another three billion.
"No wonder concerns about food security are re-emerging.
"Investment in research has many of the features of investment in long-lived infrastructure. It takes several years before any benefits flow from the investment, but they may persist for 50 years. The impact of the reduced investment in research in past decades may be only just becoming apparent as one cause of lower productivity.
"Conversely, now is the time to increase investment in research if this is to have any impact on emerging climate change and food security problems in coming decades."
Dr Mullen's research confirms the findings of many international studies that investment in agricultural research still delivers high rates of return.