His name is synonymous with the development of the performing arts at Charles Sturt University (CSU) and in the Riverina.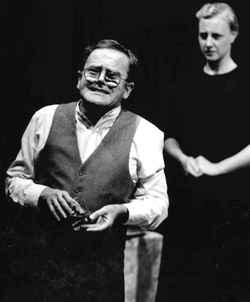 Colin Anderson was a director, actor, singer, writer, teacher, educator and mentor. He passed away in Newcastle at the age of 76 years on Tuesday 8 July 2014.
The legacy Mr Anderson left to CSU and the Riverina performing arts community was remembered fondly during a memorial gathering - aptly called The Wagga Party and held in the Civic Theatre on Wednesday 23 July.
Among those to pay tribute was former student Ms Meredith Duncan who recalled her lecturer's unswerving faith and loyalty in his students at CSU and its predecessor institutions - the Riverina College of Advanced Education (RCAE) and the Riverina-Murray Institute of Higher Education (RMIHE).
Mr Anderson moved from Sydney to Wagga Wagga in 1972 to take up the position of lecturer in drama at RCAE.
College Principal Dr Cliff Blake gave him the task of designing and implementing drama courses for teacher education programs, presenting local theatre productions and bringing the RCAE and the local community closer together through theatre.
"He did that in spades," said Mr John Jones from CSU's School of Communication and Creative Industries which now offers a range of degrees in acting and theatre and television design.
"He introduced the annual Revues which became an end of year institution for the city for many years.
"He threw himself into acting and directing productions through the Wagga School of Arts and was an integral part of the establishment of the professional theatre company, the Riverina Trucking Company, which later became the Riverina Theatre Company."
While a Senior Lecturer at the RMIHE, Mr Anderson was a driving force in the building of the new Riverina Playhouse which opened in Wagga Wagga in 1986. A large photographic portrait of Colin Anderson still takes pride of place in the Playhouse foyer as a testament to his work.
Mr Anderson's involvement in the local community extended to Master of Ceremony at the city's long-running Golden Gown Awards and as compere with the Army Band at Kapooka.
Mr Anderson retired from CSU in 1992 as an Associate Professor of Drama and Head of Performing Arts.
In 2000, CSU conferred an honorary Doctor of Arts (honoris causa) on Mr Anderson for his major contribution to the development of highly successful theatre education programs at the University.
The ceremony was told Colin Anderson was 'an enduring force and major influence in the cultivation of theatrical entertainment and enlightenment in at least four distinct communities'.