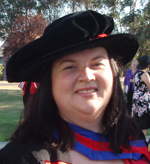 Research by a Charles Sturt University (CSU) PhD graduate has found women seeking asylum in Australia continue to be punished and excluded despite a genuine need for protection.
Dr Zurek's PhD research consisted of semi-structured interviews with 30 women who were seeking asylum in Australia and had been granted Temporary Protection Visas, and explored the subtle processes of control, surveillance and regulation that characterise these women's lives within Australia.
"My thesis examined how women who have been through the asylum system can inform an understanding of the processes of sovereignty in contemporary Australia, and how women who seek asylum in Australia become controlled, manipulated and regulated as they attempt to forge a safe haven for themselves, and often their families," she said.
"What I found was most critical was the women's perceptions of the perennial burdens and limitations their Temporary Protection Visa status brought to their lives. Such perceptions limited the extent to which the women applied for jobs, or tried to access services.
"The women could thus be described as being a captive to their status."
Dr Zurek argues the women were physically and psychologically marked as 'illegals' when they arrived in Australia and were placed in mandatory detention, and their release into the community on Temporary Protection Visas did not help them make the transition from 'illegal' to 'refugee'.
"Being on a Temporary Protection Visa marks the asylum seeker as invalid, undeserving and unaccepted within the structures of the broader society," she said.
"For many of them, there was a perception that their acceptance as a refugee, and then their acceptance into Australian society, depended on their ability to perform as the poor, needy and helpless woman, that is, the 'third world' woman.
"The implications and consequences of attempting to seek asylum in Australia through the on-shore determination system extend far beyond mandatory detention.
"I suggest that immigration detention is not just the punishment and means for assessing asylum claims, but also the visual and tangible mechanism signifying ongoing punishment and exclusion.
"However, once released from detention, punishment continues by masking itself and infiltrating the private and public spheres. This means that those who have come to Australia seeking asylum continue to be punished and excluded despite the finding that they are genuinely in need of protection."