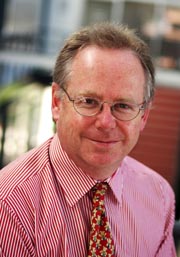 A Charles Sturt University (CSU) expert on constitutional law believes Australia's voting system is unfair, government ministers have poor accountability and the country offers limited protection for human rights, and he has called for comprehensive reform of the Constitution.
Dr Bede Harris, a Senior Lecturer in law at the University's Faculty of Business, says the Australian Constitution has major flaws.
"There are numerous problems with our constitution. Importantly for the coming election, the Constitution supposedly embodies representative democracy, yet our electoral system is grossly unfair," Dr Harris said.
"For example, in the 2010 election, just 2,175 voters in two electorates decided the outcome, which demonstrates that it is not how many votes a party gets but where they are located that determines the outcome of elections."
Dr Harris will address this and other constitutional issues in a presentation at Parliament House in Canberra on Friday 24 June as part of the Australian Parliament's Senate Occasional Lecture Series.
Dr Harris also says that although the Constitution embodied responsible government, Federal Parliament has few practical tools available to it to enforce ministerial accountability.
"We need an overhaul of our parliamentary system so that ministers are legally obligated to answer questions put by parliamentary committees, unless they can discharge the onus of proving before a court that the public interest justifies them not doing so. This is the position in the United States."
Dr Harris is also concerned with the nation's international obligations. "Australia has signed a number of international human rights conventions, yet the Australian Constitution protects only a handful of rights for Australians," he said.
Dr Harris said that the Australian community should debate the systemic constitutional reform needed to address all these issues, "but this debate is virtually non-existent because it is so difficult to amend the Australian Constitution, and this deters people from raising these issues".
"The poor state of civics education is also at fault. People are unaware of how the Constitution works, they are naturally afraid of changing it," he said.
"Would it not be better if the Constitution embodied a truly representative electoral system, effective mechanisms for legislative oversight of the executive, and effective protection for the full range of human rights?
"Would this not create an environment in which Australian citizens were fully engaged in the processes of government?"
Currently a Senior Lecturer in Law at CSU, Dr Harris has taught constitutional law in South Africa, New Zealand and Australia.
Dr Harris has published widely in the area of public law, in particular on freedom of expression, legal dualism and the recognition of Indigenous law and is a regular media commentator on constitutional law.