A day-long public forum to explain the issues of climate change and its impact on the Albury-Wodonga community will be held in Albury on Tuesday 19 August as part of National Science Week.
Charles Sturt University's (CSU) Institute for Land, Water and Society (ILWS) has joined the Murray Darling Association as well as Albury City Council, the Regional Centre of Expertise Murray-Darling and the Australian National University (ANU) to present two sessions to discuss climate change at the Albury Entertainment Centre, Swift Street, Albury.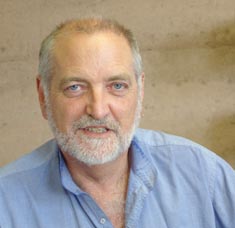 "Climate change is a growing issue for the Australian and Border community, but the likely effects are far from clear and have generated heated debates," said ILWS director Professor Max Finlayson.
"Many people think that current extremes in our weather are the same as climate change, which has led to misunderstanding and confusion. This forum aims to help clarify these issues and help you to understand how your community might be affected and how we can respond," he said.
During the free morning session from 9.45am to 12 noon, speakers from CSU and Murrumbidgee and Southern NSW Local Health Dis­tricts aim to outline climate change and interrelated issues for the world, Australia and Albury-Wodonga.
Mr Barney Foran, an adjunct research fellow with ILWS, studies the entrails of how developed economies destroy natural systems at home and abroad through global supply chains and continual expansionary devel­opment. His current work focuses on impact of developed economies on the globe's greenhouse pollution, biodiversity, land and water.
"Australians are mostly concerned with the here-and-now and that makes climate change difficult to deal with, emotionally and practically. Mostly I turn to the sports pages first where there are a few good wins scattered amongst a plethora of nagging groin injuries," Mr Foran said.
Dr Shelby Gull Laird is a lecturer at Charles Sturt University who researches the interac­tions of people with their environment through education, community engagement and even personal connections with nature. Dr Laird will speak about the ongoing and potential impacts of climate change for people, communities and well-being.
Ms Tracey Oakman has worked in the health system for 27 years, as Director for Pub­lic Health with the Murrumbidgee and Southern NSW Local Health Dis­tricts for the past 9 years. She worked with CSU in several projects linked to extreme weather events, including smoke pollution/air quality and heat wave events. Ms Oakman will speak about the effect of climate change on health and health services.
Mr Lewis Tinley is a second year student at Charles Sturt University, studying environmental science and management. He received the 2014 David Battersby Award for contribu­tion to community and is a member of the Australian Youth Climate Coalition and an environmental enthusiast. Mr Tinley will speak about climate change, particularly how it relates to young people and what actions they can take to prepare and contribute to this issue.
The morning session will conclude with a Q&A session with the panellistsmoderated by 'Dr Dave', aka Associate Professor David Watson, a senior ecologist with ILWS.
In the free afternoon session from 1 to 3 pm, three ANU researchers will hold an informal, science-based conversation with the Albury community members on aspects of climate adaptation relevant to their concerns and interests.
Participants will hear from Professor Janette Lindesay on climate and weather, Dr Malcolm Gill on climate and fire management and Dr Sara Beavis on climate and water management. This session will be moderated by ILWS director Professor Max Finlayson.