A national study investigating what people think of Australia's wild-catch commercial fishing industry has commenced.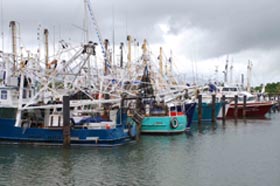 Over the next two months, 1 500 people living in Brisbane, Melbourne and Sydney will be sent a mail survey asking about their beliefs and concerns about various fisheries issues.
"The project is looking at why people have certain attitudes towards Australia's wild-catch commercial fishing industry," said project leader Dr Nicki Mazur, an ILWS researcher.
"Recent public debates and research suggest that people have strong opinions about the benefits and costs of wild-catch commercial fishing for the Australian community, economy, and the marine environment," she said.
As well as the mail survey, Dr Mazur will conduct extensive interviews and hold a national workshop.
"People regularly disagree about how much certain fish species can be caught by commercial fishers before fish supplies run out or the marine environment is harmed. Sometimes these conversations cause conflict among commercial fishers, government regulators and the wider community," Dr Mazur said.
Dr Mazur believes a better understanding of how people form their opinions about wild-catch commercial fishing would help governments and industry identify how to respond to important concerns.
Project team member and senior ILWS researcher, Professor Allan Curtis, said, "We will take three or four decisions where commercial fishers have lost access to a resource and look at how those decisions were made and what influence the different players have had, including whether the public is an important player.
"The assumption is that it has often been public opinion that makes the difference, but we are not so sure," he said.
Dr Mazur said that when
Let's Talk Fish
is completed in March 2014, "We will have information that can help identify ways to improve relationships among the fishing industry, communities and governments".