Intense community interest has helped Charles Sturt University (CSU) researchers locate old survey trees of heritage importance across southern NSW.
Since a call for help in finding these trees went out to landholders in the Greater Hume, Lockhart, and Corowa shires for assistance, the researchers have located 67 trees throughout the region.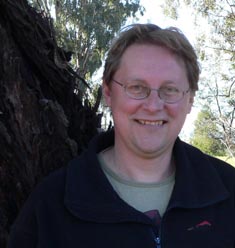 "We've had a lot of success in our search for these historic trees that were used to help map and survey farming land in the region," said project leader Dr Peter Spooner, from Charles Sturt University's Institute for Land, Water and Society.
"Although not every landholder was successful, many farmers searched for old survey trees on their properties, and I thank them all for their efforts.
"Due to the ravages of time, unfortunately, many of the markings on the trees have either decayed or grown over, so no wonder it was quite difficult for many farmers to locate them."
Fieldwork to locate the survey trees has been completed, and the CSU researchers are now investigating the histories of each tree. CSU Honours student Jake Shoard will describe aspects of each tree, such as the condition of the tree, their locations and distribution patterns, and, using historic records and maps, the tree's history.
"Where possible we want to uncover the history of each tree," Dr Spooner said.
"NSW Land and Property Information have provided a huge amount of in-kind assistance in helping us identify why the trees were marked and also with some aspects of their histories, using original land portion plans dating back to the 1870s.
"Using these plans, we have verified the markings on each tree, when they were marked, and why," he said.
Dr Spooner is also grateful for assistance provided by many current and retired surveyors working in various government departments and elsewhere in NSW.
"These people played an important role in developing the country, and many have great stories to tell, which they are keen to share," said Dr Spooner.
The researchers have identified three groups of trees, some with unanticipated stories.
"The main group are corner reference trees, permanent markers normally blazed at each corner of a paddock. We found quite a few of these, but unfortunately, due to their age, the markings are very hard to decipher. The markings cut into gum trees in particular have grown over or deteriorated and you can't read them anymore. However on other species, such as Murray pines, some markings have preserved surprisingly well," Dr Spooner said.
Where the marks are clear, the researchers have been able to accurately date when the survey took place.
"Other trees with the marking 'BM', or benchmark, and other numbers inscribed, were initially a puzzle. The numbers did not align to any known plans or maps," Dr Spooner said.
However, landholders around Corowa, Savernake and Berrigan reported many of these trees along local roadsides in the area. With assistance NSW State Water, we found that a number of these trees date back to 1932 when surveys were conducted to develop irrigation in this area.
"'BM' trees were used by surveyors to accurately survey the rise and fall of the land to plot the path of proposed channels, as well as plan for expected flooding. As a result, a grid work of these 'BM' marked trees were marked almost every mile or so in the irrigation districts. And many of these trees still survive in varying conditions."
A third group of trees were grouped as 'trees for very specific purposes'.
"These survey trees were marked as trig stations, or as boundaries for roads or cemeteries. We've also located unusual markings on trees along in Travelling Stock routes, and along the Murray River, which are still under investigation, but potentially link back to early surveys in the 1870s," Dr Spooner said.
The CSU researchers are still documenting the trees' histories, which, once completed, Dr Spooner intends to present to the landholders who participated in the project to share with them the stories of the heritage trees on their properties.
"These trees are living history," said Dr Spooner. "In rural areas, old survey trees are one of the few remaining physical legacies of its European land settlement history. It is vital that we record the location and characteristics of old survey trees before they, and the stories they tell, are lost forever."This information may be used to assist in developing cultural heritage or eco tours of council areas, to share the stories and history of land settlement in NSW."