The Murray-Darling Basin Authority has announced that its guide to its proposed Basin Plan will be publicly released on
Friday 8 October
.
Experts from Charles Sturt University (CSU), located across Australia's food bowl, are well placed to comment on the plan and its future possible effects on the people, plants, animals and various communities that live together in the Murray Darling Basin.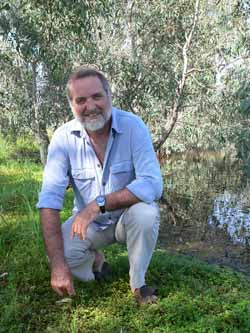 "The wetlands and rivers of the Murray Darling Basin are vital for maintaining the livelihoods and well-being of the people and the health of the landscapes that support these people. We are in a period of change and we need to adapt as we embrace the options and opportunities for the communities that live in the Basin and sustain its social, economic and ecological fabric,"
says Director of the University's
Institute for Land, Water and Society
(ILWS), Professor Max Finlayson.
CSU experts available for comment include:
ILWS Director, Professor Max Finlayson, who is an expert on the ecology and water management of the Basin with a strong interest in climate change, community engagement and participatory management (based in Albury-Wodonga). "It is not acceptable to manage the Basin for biodiversity alone; in fact to do so will be counterproductive. A people-centred approach in Basin management, which does not diminish the importance of biodiversity, will have joint benefits. Resolving trade-offs between people with interests from the local to the national is also needed and is achievable with dialogue, using a deliberative approach to ensure the interests of local communities are not marginalised. This will require a particular form of engagement based around transparency, patience, tolerance and a willingness to reciprocate, and underpinned by scientifically collected and interpreted evidence. The future of the Basin depends on a social response to the ecological problems that are all too prevalent."
Strategic Professor in Business, Professor Kevin Parton, on the economics of changed water usage (Orange and Bathurst). "Economic analysis to date for the MDB has concentrated on cuts to water allocations of up to 12 percent. This analysis shows that the reductions in output and farm income are proportionately smaller, where a 10 percent cut in allocations is likely to result in a fall in farm income of between one-and-a-half and three percent, These cuts will be even less if restrictions on water trading are reduced. Why will income cuts be small? First, less efficient water uses will eliminated first. Secondly, new, more efficient irrigation activities will be introduced. Farmers are generally astute business managers who adjust rapidly to new circumstances. However, social costs may be significant in some locations where adjustment is difficult. In these instances it will be important to engage with the members of the communities concerned to develop a sustainable future that they support."
ILWS social researcher, Dr Jonathon Howard, on changing water use by Basin communities. Dr Howard is a leading advocate on empowering local communities to decide on water allocations (Albury-Wodonga). "This is the start of the process of the plan, as there are rounds of consultation. The plan is based on the best available science we can gather in this short time line. It not about death of industries but setting them up in perpetuity, adding more certainty to where there has been huge uncertainty affecting regional businesses."
The guidelines released on Friday 8 October by the Murray Darling Basin Authority mark the start of a consultation process, not the publication of a plan. The plan is due to be finalised during 2011, and implemented from mid-2012.