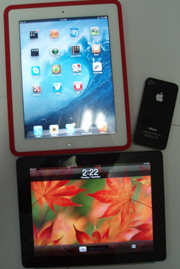 Charles Sturt University (CSU) students will be even better organised when it comes to assignments, with a dynamic, personalised, and mobile assessment calendar at their fingertips.
The calendar is a new feature of CSU's
mobile site
, and draws information from recently released online subject guides. Students will log in with the relevant student number and the assessment calendar will be automatically populated from the online guides for each subject they are enrolled in.
CSU Director of Strategic Learning and Teaching Innovation, Associate Professor Philip Uys, said the new feature would allow students to see at a glance which subjects had assessments due, what form of assessment it was, and how much of the final subject mark it was worth.
"Subject outlines are one of the key documents students tend to refer to again and again throughout the subject," Professor Uys said.
"Having them all online and accessible on mobile devices for the first time will make life easier for all our students, whether they are studying on campus or via distance education.
"The assessment calendar is an extra bonus we've been able to implement as a result of having all this information online for the first time."
The online subject outlines are just one aspect of CSU's push to put control of the study experience firmly in the hands of the student.
"We're concentrating on making the online learning experience seamless for all students," Professor Uys said.
"We'll introduce an online learning platform from next year in phases which will tailor content to whatever device is used to access it.
"That means, whether you're on-campus or distance education, whether you're at a desktop computer, or on a tablet, or using a mobile phone, you will be able to access your subject materials and other online support whenever it suits you.
"Technology will never replace good teaching, but it can make it more accessible and interactive; that's our focus at Charles Sturt University.
"Mobile technology makes it possible for people to learn in a lot of short sessions, rather than the old model of hours at a time in one place. People can catch up on their required reading on the bus, they can watch course-specific videos in their free time from the couch. We want to give our students technological tools they can use to learn in the way which best suits each student."