* A CSU doctoral student is one of three finalists for a NSW government award for international students
* Mrs Forough Ataollahi has developed a local and national profile in the international student community
* Mrs Ataollahi has used her experiences to help new refugees settle in Wagga Wagga
An international student from Iran who studies at Charles Sturt University (CSU) and who knows the difficulties of settling in a new country, has been recognised for extending her friendship to refugees who also seek to call regional Australia home.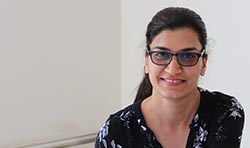 Mrs Forough Ataollahi, pictured left, is a PhD student with the CSU School of Animal and Veterinary Sciences and the Graham Centre for Agricultural Innovation, based in Wagga Wagga, and she advocates passionately for and represents international students locally and nationally.
"Since arriving in Wagga Wagga in 2015, I have loved the friendly people of Wagga Wagga. It started with a social event for new students like me, where I was made welcome by an Australian who invited me to their home. This has continued since this time," Mrs Ataollahi said.
"Growing up in a small village in Iran, I understand the hospitality that can be extended in rural and regional communities."
Since her arrival, Mrs Ataollahi has become an excellent role model and leader within CSU and in the Wagga Wagga community, which has resulted in her recommendation for the NSW International Student Awards for 2018 in the Higher Education category. She is now one of three finalists for the award.
After joining the CSU International Club on her arrival, Forough has been the club's President since 2016, arranging numerous information sessions and social activities for international students to make them part of the CSU community.
Mrs Ataollahi has also developed a national profile, being elected as first ever Women's Officer for the Council of International Students Australia (CISA), the national peak body for international students. In this role, she advocates for the needs and interest of female international students and delivered the first CISA International Women's Conference at CSU in 2017.
Mrs Ataollahi has also given back to the Wagga Wagga community, becoming heavily involved with local refugee groups seeking to settle in regional Australia.
"I love working with refugees. I understand their challenging situations, especially with learning English and finding employment for them and their families," Mrs Ataollahi said.
"As a Charles Sturt University student, I received some really good support to help me settle into Wagga Wagga. As refugees, they may not receive the same level of support that I have, but I want to extend my hand in friendship and help them reach their goal."
To this end, Mrs Ataollahi volunteers with several community organisations in Wagga Wagga, including the Multicultural Council which supports a cultural club where different ethnic communities meet and plan activities, and with the St Vincent de Paul's resettlement program to help settle new arrivals.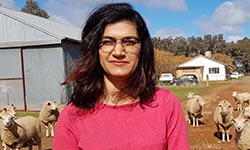 Forough also supports the Language Café initiative at the Wagga Wagga City Library, helping participants to learn and practice their English skills.
Mrs Ataollahi is now completing her doctoral studies with CSU, where she investigated the effects of calcium and manganese supplements on the immune systems and energy usage of ewes and lambs. She plans to submit her thesis this month.
The ceremony for this year's NSW International Student Awards will be held on Tuesday 25 September at the Museum of Contemporary Art Australia at The Rocks, Sydney.