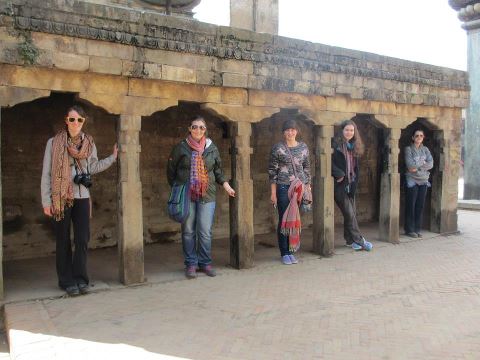 A group of Charles Sturt University (CSU) students will work with young students in Nepal on a once-in-a-lifetime work placement in November.
The ten students are studying education, social science, and teaching, at CSU in Wagga Wagga, Bathurst and Albury-Wodonga, and via distance education.
Lecturer in Teaching English as an Additional Language at
CSU's Faculty of Education
, Ms Trisha Poole, will accompany the group and said the students would teach young Nepali students across a number of grades.
"Most days, they will teach with their Nepali teacher in the classroom, but there are often excursions and other activities," she said.
"There will also be time to work with Bal Mandir, which is a children's home that is run by the
Mitrataa Foundation
.
"Mitrataa is the charity we work with in Nepal. They help organise the school and teachers, as well as some extra activities for our students. Mitrataa was established by Adam and Bec Ordish, who came from Bathurst. Charles Sturt University signed a
Memorandum of Understanding
with Mitrataa in 2012 about working together to help develop and train Nepali teachers, and one of the key strategies is to have our students go to Nepal and teach with the Nepali teachers."
Ms Poole said that in addition to gaining valuable teaching experience, the CSU students would also be able to experience Nepali culture and the adventures of living and working in a developing country.
"Nepal also has a deep history and culture, and the students will be able to explore this on their days off. They will also be interacting with locals every day," she said.
"Nepal is renowned for its constantly changing atmosphere and for the unexpected, so our students will learn about the value of flexibility and adaptability. These are essential qualities in a teacher, so it will help prepare them for the real world where things do not always go as planned. Cross-cultural communication skills and values will also be emphasized during the trip, so it is expected that the students will become more experienced with these and be able to translate them into their teaching in diverse classrooms in Australia."
This is the second such trip, arranged through
CSU Global
, to Nepal for CSU students. Ms Poole said the feedback from last year was overwhelmingly positive and this year's group was looking forward to the experience.
"Everyone is so very excited," she said.
"They have been approaching local businesses for donations for school supplies to take over as Nepali schools do not have a lot of resources and teachers cannot afford to buy classroom resources themselves.
"It will be an unforgettable experience that will change our students' lives and, we hope, make them better and more well-rounded teachers."