Charles Sturt University (CSU) looks forward to the NSW Country Eagles taking flight in the new National Rugby Championship (NRC), announcing a two-year partnership with the team.
CSU Vice-Chancellor Professor Andrew Vann said the partnership for the 2014 and 2015 seasons is another example of the University's commitment to advancing regional communities.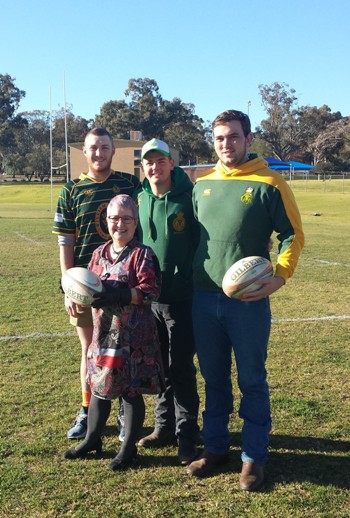 "This is another important way in which we can be part of supporting country people to develop a really great initiative for our regions. There are active Charles Sturt University rugby teams in Bathurst, Wagga Wagga and Orange and the University is proud to be working with a team in the national competition," he said.
"This relationship with a national-level sporting team is an opportunity to build aspiration and participation in higher education for rural and Indigenous kids across our regions."
The NRC is the new domestic professional rugby competition and will be the highest tier of competition below the international Super Rugby tournament.
"We are thrilled to have Charles Sturt University on board for the next two NRC seasons. The University has such a strong rugby history and hopefully the NSW Country Eagles can add to that," said NSW Country Eagles General Manager and former Wallaby Mr James Grant.
Wagga Ag College Rugby President Mr Phil Koch said CSU's partnership with the Country Eagles will greatly strengthen the quality of rugby in country NSW, particularly for university aged students.
"This will provide direction and greater opportunities for development, for our student members who are currently playing high level representative rugby. This opportunity is essential for students to continue with their tertiary study within Country NSW," said Mr Koch.
"University life is about forming well-rounded individuals who excel in all aspects of their lives professional, sporting and cultural," said CSU's Head of Corporate Affairs Mr Mark Burdack.
"This is another way in which Charles Sturt University can create opportunities for our regions and students.
"Under the auspice of this program, the General Manager of the Charles Sturt University NSW Country Eagles Mr James Grant and I have been discussing a range of initiatives including the potential for student placements with the rugby team in areas such as sports media, physiotherapy, event management and marketing.
"I am particularly looking forward to Charles Sturt University NSW Country Eagles taking on the Bond University backed Queensland Country side later in the season," said Mr Burdack.
The CSU NSW Country Eagles team will be officially launched at 7pm on Tuesday 12 August at the Eastern Suburbs Rugby Union Club, 22 O'Sullivan Rd, Bellevue Hill.