A Charles Sturt University (CSU) lecturer in child, youth and family welfare believes families need more support and certainty when it comes to welfare payments.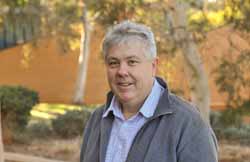 Commenting on the initiatives announced in the lead up to the 2012 federal Budget, Mr Neil Barber from the CSU's
School of Humanities and Social Sciences
said many families are feeling the pressure of a tough economic climate.
A scheme announced by the federal government ahead of tonight's Budget will see parents receive up to $820 for every teenager at school and $410 for primary school children replacing the education tax refund.
"The pre-budget announcement of direct payments to offset the cost of school preparation in place of tax concessions is probably going to be appreciated by most eligible households," Mr Barber said."Though it's debatable how much it will compensate for the actual costs of children attending school. It also undervalues the critical need for many families for effective and affordable pre-school education - and the need for out of school hours care, which probably would be better targeted through the tax system."
Meanwhile the tough spending budget is also expected to overhaul the welfare system including a $700 million cut to parenting payments designed to get more people back to work.
Mr Barber said the need for out of school hours care becomes critical in light of the expectation that non-working parents and carers will be 'forced back' into the job market by reducing benefits.
"The major cost that will confront families will be around child care, both before and after school-hours; very few businesses or industries operate on 9am to 3pm work cycles any longer.
"Fundamentally social security payments for the care of children are just that, for the care of children, and if parents are obliged to accept work to sustain their children and pay for their care while they are working, then industry and government will also need to provide far more flexible work rosters to accommodate gaps in care availability," he said.
Mr Barber said there needs to be a bipartisan, longer term view of what the relationships are between work income support and education and family support policies.
"Rather than confusing and scaring people often living close to the 'tipping edge' by giving and taking money and programs every budget and parliamentary cycle, it would be better to offer them structural certainty and confidence that participating in the workforce will not leave their children more vulnerable and less cared for," he said.
Read more comments on CSU News from CSU experts about the 2012 federal Budget
here
.