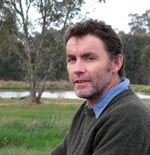 A Charles Sturt University (CSU) study looking at how rural landholders are responding to climate change or variability has found landholders who are traditional farmers are more optimistic about their ability to respond to future market and climatic conditions than 'lifestyle' landholders.
The study conducted by researchers from the University's Institute for Land, Water and Society (ILWS) also found landholders who 'didn't believe in climate change' were more confident about their ability to adapt to a drier climate.
Earlier in 2008, a team of ILWS social researchers headed by Dr Rik Thwaites and Professor Allan Curtis interviewed two representative groups of landholders in the North Central Catchment area in Victoria.
One group was from the Kamarooka area north of Bendigo, relatively flat country with large mixed cropping and livestock properties; the second was from the Muckleford area, hilly country with smaller property sizes and a higher proportion of 'lifestyle' landholders.
"We asked landholders how they have got through the last 10 years of drought," said Dr Thwaites. "In both groups, landholders had responded by increasing their efficiency in water use, storage and transport."
The researchers found the groups reacted to the risk of climate variability differently.
Around Kamarooka, landholders responded to the risks associated with climate variability and difficult economic times by seeking greater efficiency of production, which they achieved by expanding and intensifying their operations.
In the Muckleford area, the landholders responded to these risks by making themselves a 'smaller target'. They reduced debt and moved to low input, low management farming systems.
The researchers found many factors influenced decision making, including landowners' personalities, available resources, and the nature of their external operating environment.
"There is a complex relationship between all factors, with no one factor alone contributing to decision making," said Dr Thwaites. "Climate variability was never the single reason for a decision. In fact, it was rarely identified as the most important factor."
About half of the landholders believed climate change was real, with slightly more 'believers' in Muckleford than Kamarooka. A key difference between 'believers' and 'non-believers' was that the 'non-believers' were more confident in their ability to adapt to a drier climate. "In Muckleford this lack of confidence in being able to adapt to climate change was associated with higher levels of personal stress," said Dr Thwaites.
The study is part of larger research project titled 'Ecosystem risk: impacts of climate change' coordinated by the North Central Catchment Management Authority in Victoria and funded by the Federal government.
The project will be followed by a similar study in North East Victoria during the early part of 2009, funded through the Landscape Logic Hub as part of the Commonwealth Environmental Research Facilities program.