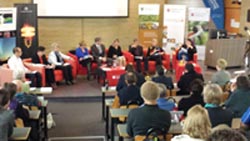 Four Charles Sturt University (CSU) experts in food security provided insights in various aspects of this growing issue for the nation during a public forum held at CSU in Albury-Wodonga on Wednesday 14 August.
Providing food security is a major issue for Australia's agricultural sector. CSU Professor of Agriculture and Director of the
Graham Centre for Agricultural Innovation
,
Deidre Lemerle
, discussed the challenges for the industry.
Listen to the podcast below.
The quality of food for all Australians can be tied to the nation's food security. Associate Professor
Sue McAlpin
from the
School of Dentistry and Health Sciences
outlines the challenges and problems for a healthy rural population.
Listen to the podcast below.
Senior
ILWS
researcher Professor
Kevin Parton
addressed concerns regarding the affect of climate change on agricultural production and food security in Australia and overseas.
See the vodcast below.