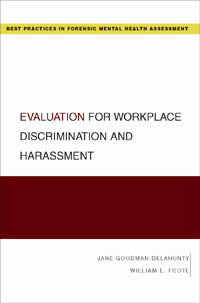 New tools for assessing psychological injury, such as in cases of workplace discrimination and harassment, are offered in a new book by a Charles Sturt University (CSU) researcher.
Professor Goodman-Delahunty said that conducting a psychological assessment of a complainant in a workplace discrimination case is a challenging task, and the use of the five-stage model she and Dr Foote have developed provides a best-practice method for a more complex examination of the complainant to determine the cause of complaint.
"A key feature of the five-stage model is that it brings together knowledge from academic research, psychological practice, and the law through hypothesis testing," Professor Goodman-Delahunty said.
"First, the evaluator draws upon knowledge of the psychological, forensic psychological, and legal literatures, and upon his or her own experience with forensic cases.
"Then by looking at the contributions of events occurring before, during and after the alleged harassment, the full impact of harassment and discrimination is exposed, or alternative causes can be identified or suggested.
"The five stage model presents evaluators with a step-by-step method to evaluate a claimant's symptoms, and to prepare a defensible report which meets court requirements. This model can be applied by experts for the plaintiff or defence and neutral assessors, including the court.
"We propose that the model enables the assessor to use findings from psychological, forensic and legal research in forming hypotheses about the cause of harm.
"The model is not limited to workplace discrimination and can be applied to any psychological assessment to determine causation and credibility in cases of civil injury or victim compensation claims."