Charles Sturt University (CSU) sociologist Dr Angela Ragusa believes tree changers are moving to rural areas because they are stressed and they perceive a country life-style will be less stressful.
"What everyone wants is a peaceful, happy life-style. That is a universal value among Australians," she says.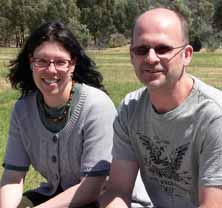 A key researcher with CSU's Institute for Land, Water and Society (ILWS), Dr Ragusa is involved in research on 'tree-changers' who have moved to rural communities in NSW and North-East Victoria. Her findings dispel the myths that tree-changers are 'cashed up baby boomers seeking an alternative to their coastal retirement' or 'young families that can't afford inner-city properties'.
"If councils are serious about retaining people that have made such major changes in their lives as moving from the city, they need to look at what is important to individuals so they can keep them in their areas."
Dr Ragusa will present her research at "The changing nature of our rural neighbourhoods" Forum to be held on Wednesday 26 November, from 9am to 3pm, at the CD Blake Theatre on CSU's Thurgoona site near Albury.
Researchers will present their findings to the general public in the forum and get input from people in business and the local community.
Convenor of the forum and CSU academic Dr Gary Luck said, "People will be able to to discuss what they see as the challenges ahead for the changing communities they live in. We are keen to hear from people whose communities are in decline, as in some of the irrigation areas, as well as those from towns like Yackandandah and Beechworth where populations are growing."
Presenters at the forum include:
Dr Angela Ragusa, ILWS – "Changing hands, changing lands: Demographic change in rural Australia"
Emily Mendham, a PhD student in ILWS, on "New managers, new opportunities? Trends in rural property ownership and what they mean for land management";
Professor Jim Walmsley from the University of New England (UNE) who will be talking on "Demographic change in rural Australia";
Dr Neil Argent, (UNE) - "A fraying and thinning fabric: The process and politics of demographic decline and sparsity in inland Australia";
Mary Terrill – A landholder's view of the challenges and opportunities of demographic change; and,
Cameron McKern – A business leader's view of the challenges and opportunities of demographic change in rural areas.
Dr Luck acknowledges that communities are always changing. "We need to be aware of what are the main changes occurring. Academics can identify the big changes and the implications – there are always good and bad. Some people will embrace the changes, others will resist it, but you can't stop change. It's a matter of how you manage for change," he said.