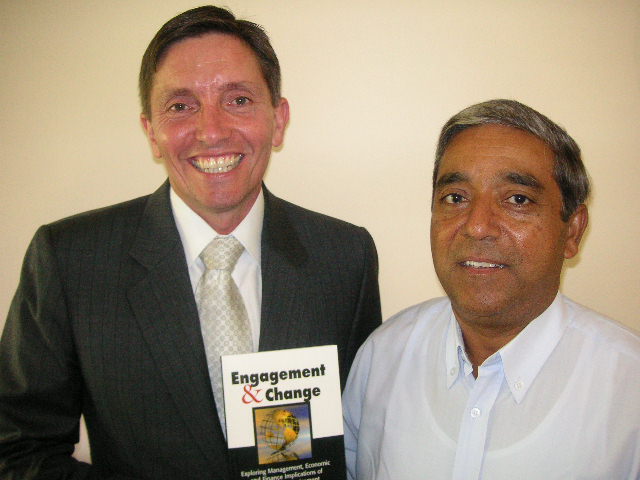 Harnessing the benefits of globalisation is more important now than ever before, according to the editors of a new book that examines 'globalisation' from diverse perspectives.
The Vice-Chancellor and President of Charles Sturt University (CSU), Professor Ian Goulter, will launch Engagement & Change - Exploring Management, Economic and Finance Implications of a Globalising Environment on Wednesday 13 February.
Commenting prior to the book launch, Professor Goulter noted that the editors conclude in their Introduction that there is no real choice but to actively engage with the rest of the region and the world.
"While the book is written from diverse multiple disciplinary traditions, each chapter contributes to the enhancement of understanding and the practice of business in the Asia-Oceania region. Of particular relevance to CSU is the assessment that universities must produce graduates with the right skills, attitudes and attributes to compete successfully in a global labour market and to meet the needs of industries that also increasingly compete at global, national and local levels," Professor Goulter said.
One of the book's co-editors, Associate Professor Grant O'Neill, Head of the CSU School of Marketing & Management, said that the book's 23 chapters address topics such as management, economics, finance, accounting, marketing and human resources, and it will assist researchers, practitioners and policy makers at different levels.
"This book uses academic and theoretical insights and applies them to real world problems and circumstances. It addresses diverse business issues and can contribute to the achievement of industry best practice," Professor O'Neill said.
Another co-editor of the book and CSU academic, Dr Parikshit Basu co-authored a chapter that deals with Australia's trade relations with China and analyses the future benefits to Australia of Chinese growth, and the associated risks for Australia in the long run. "So long as the commodities boom continues in China, Australia benefits. At the same time, the continuation of the boom may be distracting Australia from other potential opportunities that exist in China, particularly in the services sector," Dr Basu said.
A chapter with a more local focus, contributed by CSU academics Mr Mark Frost and Dr Judith Crockett, considers the 'Prospects for Collaborative Business Arrangements in the Mining and Engineering Sector, Central Western New South Wales'. "We looked at different ways of collaboration available to smaller participants in the mining and engineering sector to manage the sourcing and training of skilled staff, sources of finance, sharing of resources and managing business input costs," Mr Frost said. "Participants in the sector were surveyed to identify key areas of concern, map existing collaboration, and establish a potential path of further engagement."
This book was developed from the best papers presented at the
Third International Conference on Contemporary Business
which was organised by the CSU Faculty of Business in Australia in September 2006. Contributors included 19 academics from Charles Sturt University and from seven other Australian universities, as well as from the United Kingdom, New Zealand, South Africa and the USA.