What is it like "Growing up in Australia"? A landmark study of ten thousand Australian children over a period of seven years will eventually give some answers.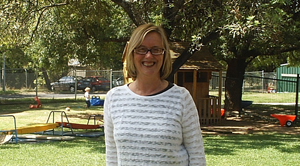 Growing Up in Australia
is the longitudinal study of Australian children initiated and funded by the Federal Government, which examines the impact of Australia's unique social and cultural environment on the next generation.
The first wave of the results are an insight into the childcare experiences of five thousand infants and five thousand 4 to 5 year olds.
Dr Linda Harrison (above), senior lecturer in Early Childhood Education at Charles Sturt University (CSU) analysed the childcare data for publication by the Australian Institute of Family Studies. She says the most surprising finding so far is "the overwhelming use of grandparents. Fifty per cent of 6 to 11 months olds are receiving regular grandparent child care. This figure is surprising because I imagine that many of these grandparents might still be working themselves. The results underline the huge contribution that grandparents are making. I'll be interested to see if that level of care persists as children move towards age two to three."
It seems the high cost of child care, especially in NSW, is contributing to this picture. "Formal childcare settings are typically being used by families with high incomes, so we need to think about what this says about the kinds of care families on lower incomes are able to use. Relying on grandparents, or other relatives is excellent within a supportive family, but it may also be adding extra stress to families, we don't really know. This study will be able to tell us these kinds of things."
This new study is confirming the benefits of attending early childhood settings prior to school. And Dr Harrison's findings are already being used by pro childcare advocates in the debate over nursery care for the under three year olds.
"I think child care has certainly been a controversial issue for a very long time. My own research with families in NSW has showed that children who started formal child care in their first two-and-half years were doing very well when they started school. We did not see the disadvantage that other studies overseas have shown. Some of the results from England and the US have shown negative effects.
"It is worrying that NSW has the highest percentage of 4 to 5-year-old children who are not attending any early education or childcare. Other states have more extensive pre-school and child care facilities attached to schools, which is free for parents. In NSW, pre-schools and child care tend to be provided by community-based or private providers, and families have to pay."
The differences between the states will also lead to invaluable data on how children are affected by various types of childcare, and how this impacts of their transition to "big school".
"This stage of the study is laying very important groundwork that will be able to explain some of the outcomes later on."