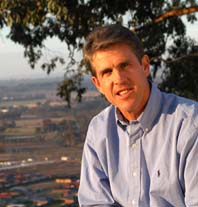 Research that questioned the effectiveness of public funding for repairing environmental damage over the past 20 years has resulted in mixed answers, says a lead researcher in the recently completed Landscape Logic project, Professor Allan Curtis from Charles Sturt University (CSU).
"It's not a simple 'yes' or 'no'. While Landscape Logic researchers showed there was an increase in the extent of native vegetation cover in Victoria, their findings challenged the assumed effectiveness of fencing river frontages as a way of improving water quality," said Professor Curtis, who is with CSU's
Institute for Land Water and Society
(ILWS).
The leading social scientist presented detailed evidence of his findings in a new book titled 'Landscape Logic: Integrating Science for Landscape Management', published by CSIRO Publishing. The book will be officially launched at 1pm on Wednesday 2 May by well known water researcher Dr John Williams at the offices of the North East Catchment Management Authority in Wodonga, Victoria.
"Public investment in natural resource management is intended to improve the condition of our environmental assets such as our rivers, wetlands, estuaries and native vegetation," said Professor Curtis, co-editor of the book with Professors Ted Lefroy and Tony Jakeman and Mr James McKee.
"We examined the assumptions underpinning environmental programs to improve Australia's waterways and natural vegetation, and the book has important messages for environmental managers, land managers, researchers and policy makers," he said.
"The assumption has always been that if governments implement on-ground works or are able to work with landholders to achieve changes in their management practices, we will improve the condition of our environmental assets.
"For example, one assumed relationship was that 'riparian buffers', or strips of vegetation along waterways, trapped nutrients that pollute waterways. What scientists found was that buffers can be effective in trapping solids like silt and mud, but they don't prevent dissolved nutrients like nitrogen and phosphates entering waterways. These nutrients are important causes of algal blooms in Australian waterways.
"The focus of Landscape Logic was to assess the scientific basis for assumed links between action at the paddock and catchment scale, and changing the condition of the environment. We explored that question in relation to two key environmental assets, native bush in Victoria and water quality in Tasmania."
The Landscape Logic project was funded by the Commonwealth Environmental Research Facilities program and led by Professor Ted Lefroy from the University of Tasmania. Professor Allan Curtis led the social science program - a key component of the project - and the eight ILWS researchers involved in the program.