Desperately needed feed and veterinary supplies for small-holder dairy farmers in flooded Pakistan will be purchased with emergency relief initiated by Charles Sturt University (CSU) through a one–off grant from Australia's international agricultural research agency, ACIAR.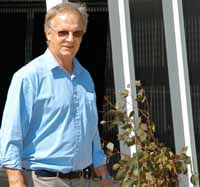 CSU has been involved in the ACIAR-funded project,
Improving Dairy Production in Pakistan through Improved Extension Services
since August 2007. Since then, University staff have been working with a small team of Pakistanis on the ground to implement training for dairy farmers and field staff as well as implementing a wide range of other research and training opportunities for scientists, university students and academics.
"Many farmers are attracted to raising dairy cows in low lying areas close to rivers to ensure there is an adequate supply of water for irrigation of crops and forage and for their animals," Professor of Animal Production at CSU Peter Wynn said. "They were the first farmers affected by the country's massive floods as the five major rivers of the Punjab breeched their banks and covered wide stretches of farm land and associated villages."
Students from two schools,
Animal and Veterinary Sciences
and
Agricultural and Wine Sciences
at CSU in Wagga Wagga, worked with dairy farmers in early 2009 and 2010. "The next tour in 2011 will be very challenging as the students will participate in flood relief activities with affected farmers," Professor Wynn said.
"The $30 000 one-off grant will be used to buy feed, seed and veterinary pharmaceutical supplies for farmers in our project area in the Pakistani district of Bhakkar, which is close to the flooded Indus River in western Punjab. The delivery of the supplies to farmers will be co-ordinated on the ground by the ACIAR project team led by Charles Sturt University adjunct lecturer Dr Hassan Warriach in collaboration with the Pakistan Dairy Development Company and the University of Veterinary and Animal Science Lahore.
"The feed will include concentrate blocks consisting of wheat straw, molasses and cotton seed cake.
"Dr Warriach recently inspected some of the massive flood damage. He spoke of displaced adults and children camping on the roadside waiting for the next aid bus. He said the homes and livestock in our project area have not been destroyed or killed. However, severe crop losses, increased disease prevalence and a lack of feed remain serious problems for both humans and animals," Professor Wynn said.
ACIAR project manager Mr David McGill said, "Our longer term support for the dairy farmers will include assistance with the planting of early winter crops so there is stock feed in future months. We are hoping the crops can be planted once the flood waters start to recede in the coming weeks."
University-wide help
"Charles Sturt University has well established links with Pakistan through collaborative research, Pakistani students studying at our campuses and through students who have undertaken fieldwork in Pakistan," Deputy Vice-Chancellor (Administration) Professor Lyn Gorman said.

"Given these links and our role as good global citizens, staff and students are encouraged, where they can, to contribute to the UNICEF's Pakistan Flood Children's Appeal. Payments to the UNICEF appeal can be made at any of the University's cashier offices."
Staff from the two Schools of Animal and Veterinary Sciences and Agricultural and Wine Sciences at CSU in Wagga Wagga came together for a fund-raising morning tea on Thursday 19 August.
"We raised $230 at this event for the UNICEF appeal," Professor Wynn said. "It would be great if this could be repeated around Charles Sturt University to show our generosity to people desperately in need."
Read more about the ACIAR project to help dairy farmers in Pakistan
here.