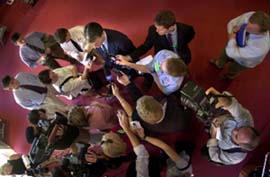 Journalism students at Charles Sturt University (CSU) have won scholarships from the national Copyright Agency Limited (CAL) to help them to gain work experience with media organisations overseas.
Senior lecturer in journalism at the CSU School of Communication, Mr Chris McGillion, said he was delighted that the CAL had awarded scholarships to four CSU journalism students to enable them to work in the United Kingdom and New Zealand.
"We require all our journalism students to complete a minimum four week internship with news organisations, usually in Australia, so that they are ready to work when they leave CSU," Mr McGillion said.
"Overseas work experience is increasingly important in the globalised media job market that these students are entering. The overseas internships will benefit the students by distinguishing them from other journalism job applicants in the future."
The total value of the CAL Cultural Fund scholarships for the CSU students is $30 000, with up to $10 000 per student, depending on the destination and duration of each internship.
The CAL scholarship application process required all applicants to use their initiative and contacts to secure 'in principle' support for their proposed internship with the host organisations before submitting their application.
The CSU students will take up their internships in July. Ms Elle Watson and Ms Talia Pattison will travel to New Zealand, where Elle will work with The Dominion newspaper and Talia with The Aucklander and Yahoo 7 – NZ. Ms Kerrie Armstrong and Ms Elizabeth Ackroyd will travel to the UK. Kerrie's internship will be at The Independent, The Shropshire Star and The Plymouth Herald, and Elizabeth's at The Exeter Express and The Journalist.
This is the second year of the CAL Cultural Fund journalism internship scholarships, which have initially been offered for three years. The CAL fund supports research, education and cultural development projects that enhance the economic and creative climate in which CAL's members and CAL operate, and provides practical assistance to these creators and the Australian cultural community generally.