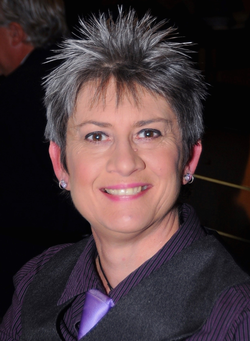 A Charles Sturt University (CSU) academic has received an international accolade for her leadership of the social work discipline taught and researched at CSU.
Dr Cate Thomas (pictured), former course director and senior lecturer in social work in the CSU School of Humanities and Social Sciences in Wagga Wagga, received the Social Work Educator Award 2017 from the Australian and New Zealand Social Work and Welfare Education and Research (ANZSWWER) organisation at its annual general meeting in September.
Dr Thomas received the Social Work Educator Award for her leadership and contribution as the then course director of the social work program at CSU.
The award citation notes that Dr Thomas led the School in a new direction during a time of much change within the University.
It states that through extensive consultation with the discipline team, Aboriginal staff, and CSU's Indigenous Board of Studies, Dr Thomas facilitated an audit of Australian Indigenous content across the curriculum. This led her to facilitate the development of both Indigenous Australian social work and eco-social work multi-disciplinary subjects. Australian Indigenous content is now included across highly relevant and innovative areas of study. Dr Thomas's vision and courage ensures the effectiveness of our graduates to work with Indigenous Australians.
Acknowledging the award, Dr Thomas said, "The importance of having specific social work subjects that address key issues in social work education and practice is vitally important.
"The Charles Sturt University social work program is responding to local, national, and global issues, both theoretical and in practice, in the curriculum. This not only benefits graduates as practitioners in the field, but more importantly, the individuals, families and communities that they work with."
Dr Thomas received the award at the ANZSWWER Annual General Meeting at Auckland University on Thursday 7 September. She has subsequently taken on a new role as courses director in the CSU Faculty of Science.
Learn more about ANZSWWER at http://www.anzswwer.org/