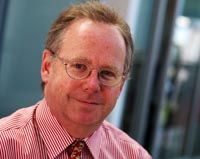 The need for a referendum to reference local government in the Australian Constitution is debatable according to a constitutional law expert from Charles Sturt University (CSU).
Dr Bede Harris, a Senior Lecturer in law with CSU's
School of Accounting and Finance
, said the referendum, to be held in September, is not necessary to ensure funds can flow directly to local government.
"Constitutional referenda are held not to recognise the existence of something, but rather to alter powers or rights arising under the Constitution," Dr Harris said.
"Section 96 of the Constitution gives the federal government the power to make financial grants to the States, and this proposed amendment would expressly allow the federal government to make grants to local governments as well."
Dr Harris said the motivation for the change arises from a 2012 High Court decision which invalidated a Commonwealth grant to a chaplaincy program being run in Queensland schools.
"However that grant was invalidated because the Commonwealth was relying on a different section of the Constitution, section 61, when it allocated the funds to the chaplaincy program," Dr Harris said. "There was nothing in the decision which suggested that the Commonwealth could not use section 96 to make grants to local governments."
"The legal position is that the Commonwealth has always been able to use section 96 either to pay grants direct to local authorities, because they are instrumentalities of the States, or to the States on condition that they use the money for the specific purpose of paying the money to local governments.
"It is therefore debatable whether the constitutional amendment is really necessary, although it would do no harm to include reference in the Constitution to local authorities," Dr Harris said.
If the government wanted to engage in constitutional reform, however, there are far more pressing areas that need attention Dr Harris said.
"These include the unfairness of the electoral system which does not give every vote equal weight, the absence of a Bill of Rights, and the fact that there is nothing in the text of the Constitution which requires government ministers to answer questions put by parliamentary committees, which is a fundamental requirement of responsible government often over-ridden by ministers."