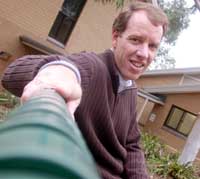 Disadvantaged Indigenous and rural students living in remote Australian settlements will benefit from a three year research project led by Charles Sturt University (CSU) in NSW and Griffith University in Queensland that uses new thinking in mathematical education and increases access to current technology.
"Poor or no access to technology and inequities between metropolitan and remote communities mean children living in remote areas do not have the same educational opportunities that those children in metropolitan centres take for granted," said Professor Tom Lowrie, research team co-leader and Director of CSU's Research Institute for Professional Practice, Learning and Education.
The Australian Research Council project, announced by the federal Government on Wednesday 15 October, seeks to address the dramatic performance differences that exist in the mathematical outcomes of some of Australia's most disadvantaged students.
"The numeracy performance of remote students is significantly lower than that of any other population group in Australia – Indigenous students in Grade 5 perform 36 per cent below the national average benchmarks, while the results of remote students are 37 per cent below students from metropolitan areas," Professor Lowrie said.
Research co-leader and head of the Griffith Institute for Educational Research, Professor Robyn Zevenbergen, said when students left school and entered the workforce they used different forms and uses of mathematics in their work.
"This provides new learning opportunities made possible through digital environments, as so much of there work is now based on digital technology. We are seeking to explore what these are and how they can be built into quality learning situations," she said.
Both professors are concerned that many of the out-of school experiences that are critical for mathematical performance are not available to rural and remote students, and this plays a large part in their poor performance in national testing. They also recognise the power of digital technologies to bridge social, cultural and language barriers to learning when used in supportive and innovative ways.
"The project draws on the strengths Tom and I have had in the area of mathematics education – using games technologies, equity, and innovative practice to work on a problem of national and international significance," Professor Zevenbergen said.
The project is due to start in 2009.