Law and criminal justice students at Charles Sturt University (CSU) have received a very personal account of crime and punishment in Australia from a well-known former criminal.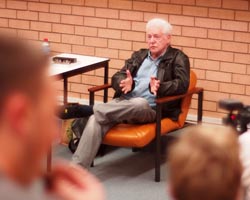 In 1999, convicted bank robber Mr John Killick spectacularly achieved national most wanted status when he escaped from Silverwater gaol in northern Sydney in a hijacked helicopter.
He spent the next 42 days on the run with his lover Ms Lucy Dudko before being recaptured and seeing out the remainder of his sentences in gaol.
Mr Killick has since turned his life around, as he described during a two hour lecture in August to 100 students enrolled in CSU's law and criminal justice degrees.
Mr Killick confessed to the CSU students, "I was a bad man. I did bad things. I don't deny that. But I like to think that I have changed, have evolved. Giving this lecture is me giving back."
Facilitated by Dr Kath McFarlane, a senior lecturer with the CSU Centre for Law and Justice, Mr Killick described how he first achieved notoriety in 1966 when he carried out Australia's first decimal currency bank heist.
He then covered topics as diverse as being in gaol with Ronald Ryan, the last man to be hanged in Australia; the psychological and physical torment of the prison 'biff', where prisoners were routinely beaten by officers as they came into the gaol; the changes brought about by the Nagle Royal Commission into prisons in NSW; and the impacts of crime on victims and their families.
The class also heard John's own account of his audacious escape from Silverwater gaol.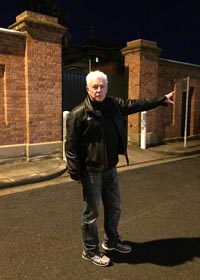 As Mr Killick ruefully noted, the lecture coincided almost to the day with the time 56 years previously that he as a 17 year-old had made a mad dash for freedom from Bathurst Courthouse.
"That was my first escape actually," he told the class, confiding that he had avoided police shots until he was eventually recaptured, hiding in a chicken shed in Bathurst.
In 2015 John released a book Gambling for Love, a cautionary tale about gambling, crime and prison. He was also the subject of what has been described as one of the best Australian love stories of all time titled "Long Loud Hours" by award-winning hip hop artist Urthboy.
Dr McFarlane explained that this lecture was one of a series that is designed to expose students to different viewpoints of crime and punishment.
"Many students will go on to work with offenders, with victims and with families, and they need to understand what makes someone turn to crime, and what might make them stop," Dr McFarlane said.
"John's perspective provided an invaluable insight into the reality of life behind bars, and what can help someone turn their life around."
Students who attended the lecture, many of whom study online with CSU, said John's stories were "Fabulous".
One said "Nothing beats an insider's perspective", while another saw the value of reform in prison, saying it "Really opened my eyes to the way in which John was reformed – he looks and acts like he had never been to prison."